The business of consulting industry is one of the top demanding businesses today. It is therefore clear that the competition, too, will be intense. Therefore, these industries need to learn how to adapt to the new innovations and researches in order to find new customers. Therefore, if you have or are about to get into this business, you may want to consider using business consulting templates for attracting as many customers as possible. In my blog, I will mention best wordpress themes for consulting business that would certainly attract more customers for you. So keep on reading.

List of best wordpress themes for consulting business
1. RS-Theme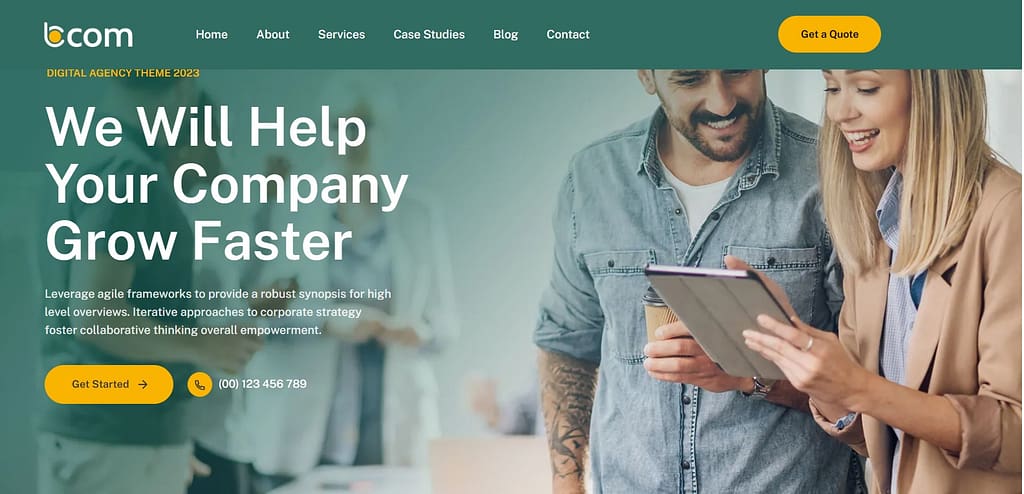 RS-theme has an amazing WordPress theme called Bcom that would be a perfect fit for those looking to establish an online identity in consulting firms. It has an easy-to-use page builder that does not require any coding skills to customize your preferred layout. Also it has mobile-responsive designs that are friendly on different devices and guarantee quality user experience. The package comes with over 32 + demo-sites, more than 60 inner-pages, and over 150-elementor-section which means you have numerous options for a unique blog.
Recent updates have addressed compatibility with WP, WP E-commerce as well as the Elementor theme builder. It has also incorporated new elementor widgets and layouts. They are also consistent because this is the proof that improvement takes place and there exists proper recording.
With the revolution slider plug-in there are no hurdles in making an animated slide. Bcom offers a single package containing optimum design for search engines and complete theme settings for companies who want to have affordable business websites but not extra cost on highly custom design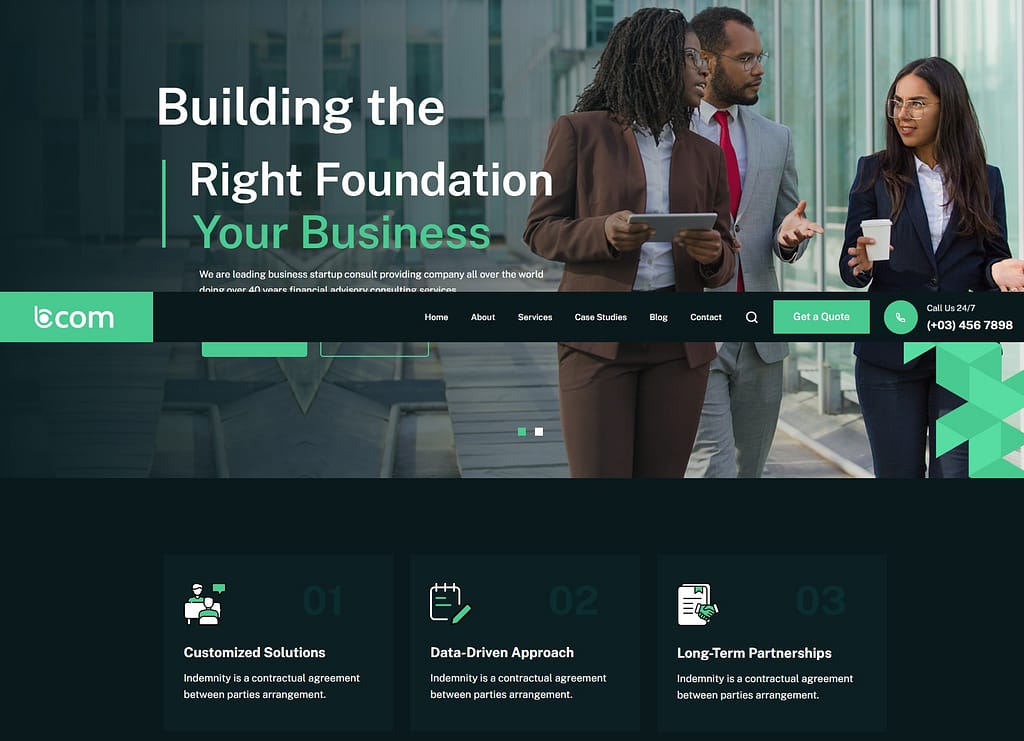 Key Features:
Responsive design
Easy cpersonalization with Elementor
32+ pre-made demo sites
60+ inner pages
150+ Elementor sections
Works well with latest WooCommerce, WordPress, Elementor
Includes New widgets and layouts
Offers Revolution Slider plug-in
SEO-friendly framework
Comprehensive theme options
Cost-effective solution
Streamlined user experience
Abundant features for professional online presence
2. Consulting – Business, Finance WordPress Theme For Consulting Business
Consulting – Business, Finance WordPress Theme developed by StyleMixThemes is highly versatile and rich in functionality designed for business, corporative and financial web sites.This theme is user-friendly and compatible with several common plugins. For instance, Elementor, WP Bakery, and WooCommerce are some of these plugins that enable one to customize their website as they wish and finally come up with an appealing and professional lookout site.
In addition, the theme has a Cost Calculator plugin, Popup Builder, and Booking System which makes its use more interactive and useful. Responsive layout and SEO optimization enhance mobile friendliness for better performance on various devices and search engines respectively.
It is easy for business organizations to use this theme that was built with an expansive template library and included ten language files. This is also coupled with availability of different Google Fonts, incorporation of multi-location Google maps, and GDPR compliance for comprehensive and up to date website design.
With frequent updates, one click demo import, and thorough documentation plus 24/7 customer support ensure pain free user experience. However, photos and images are excluded because of permission issues and users have to purchase them.
Key Features:
Compatible with Elementor, WP Bakery, WooCommerce
Abundant customization options
Responsive design
SEO optimized
Cost Calculator plugin
Popup Builder
Booking System
10 language files
Google Fonts, Maps integration
GDPR compliance
Template library
One-click demo import
Documentation and support
Regular updates
Professional and customizable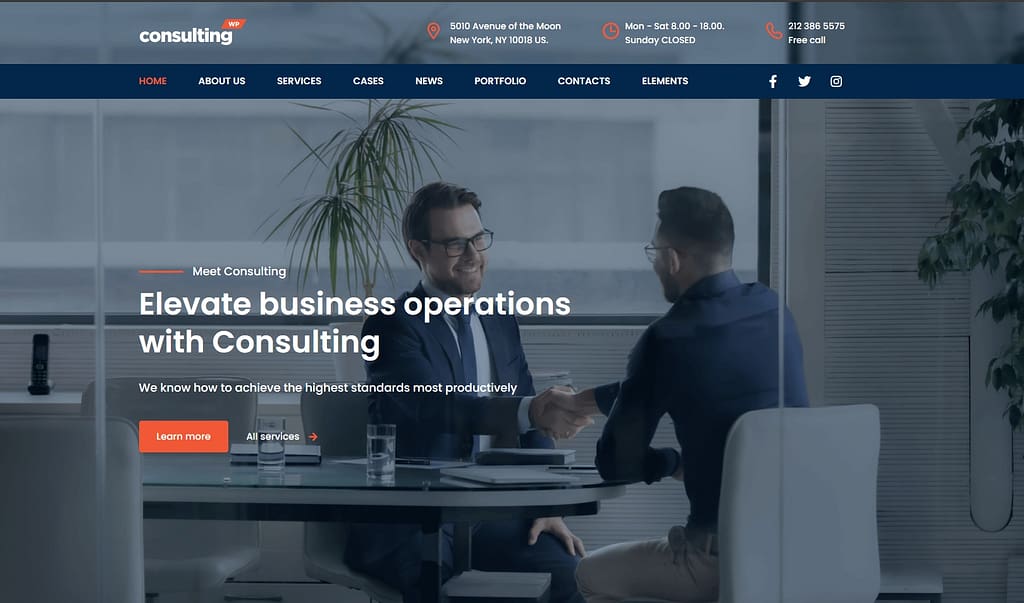 3.Consultancy Business- WordPress Theme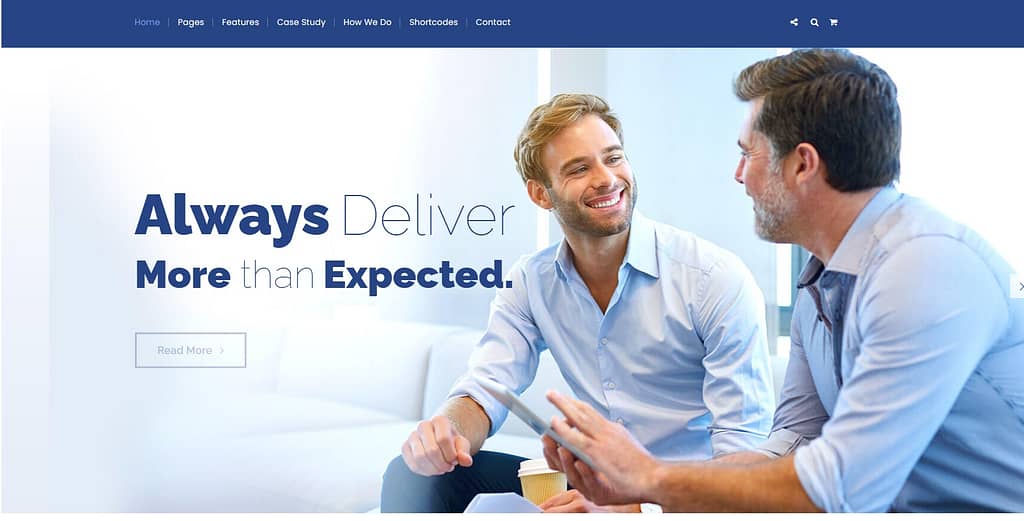 The 'designthemes consultancy business wordpress theme' is a modern, adaptable theme that can be used for different kinds of consulting and marketing companies. It has a user-friendly interface with several inbuilt plugins like visualiser, kirki, unyson, store locator, visual composer e.c that gives it much of customizing options and good functionalities.
Some of the strengths include Kiriki for customization purpose, Unyson for configuration and creation of the content while, WP store locator. It is accompanied by visual composer and visual composer ultimate add-on support that non technological user can be able to create a website even without coding knowledge.
This also works well with various versions of WordPress and common platforms. Simple ecommerce functionality integration with WooCommerce makes selling products easier. It also promotes product and activity sharing among users in addition to monitoring shopping activities.
Additionally, there is a predefined one click demo and extensive typography options comprising over six hundred Google fonts and FontAwesome icons giving more freedom during initial setup in design and typography respectively. It also offers detailed manuals, knowledge base and video guides for help when needed.
Key Features:
Versatile and modern design
Interface is User-friendly
Integrated plugins like Kirki, Visualizer, Unyson, etc.
Extensive customization options
WP Store Locator for managing locations
Visual Composer support
Compatible with WordPress and plugins
WooCommerce integration
YITH Wishlist for engagement
One-click demo install
600+ Google fonts, FontAwesome icons
Documentation, knowledge base, video tutorials
Suitable for consulting and marketing
Ample tools and features
Professional and engaging online presence
4. Reobiz – Consulting Business WordPress Theme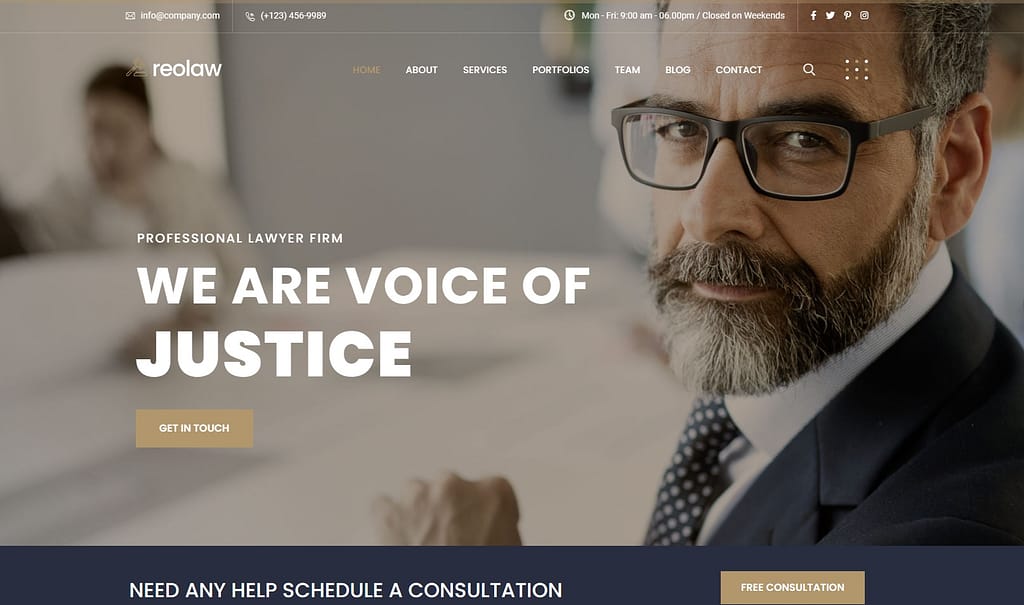 Reobiz is a modern looking theme that is perfect for consulting businesses. It sold over 4,000 units with a very high rating of 4.75. It comprises of 38 fully fledged demos consisting of 18 multi demos as well as 20 one page demos.
Similarly, it runs alongside the latest version of WordPress like 6.x.x, Elementor 3.x.x, and WooCommerce 7.x.x, making it modern. Everything needed for setup such as one-click demo, import and images and the icons are also available. Together with Elementor, the most popular WordPress page builder which is intended for creating non – technical, but very beautiful and functional web sites.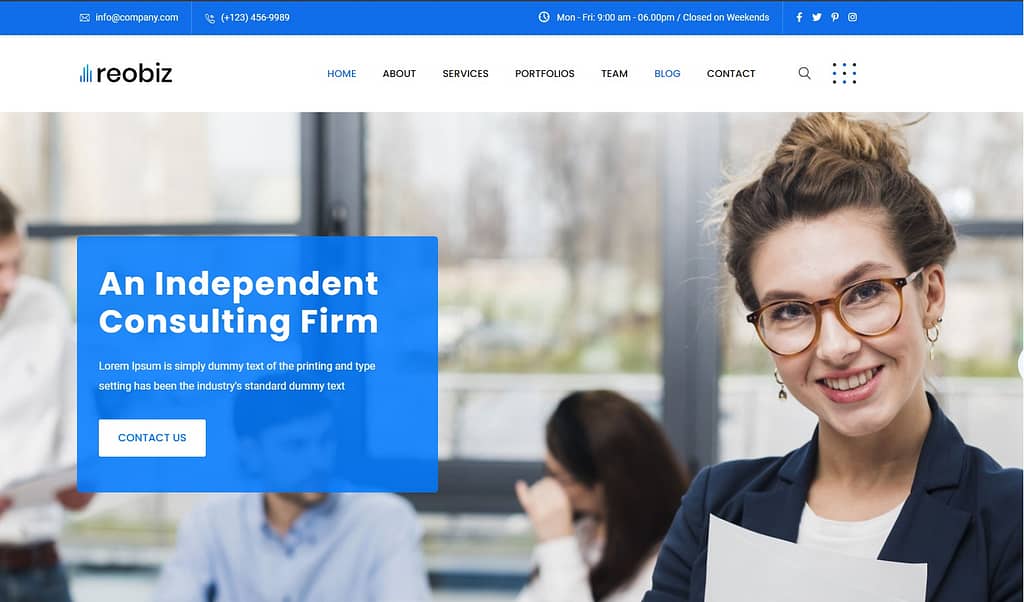 The platform is also RTL supported, has WooCommerce integration, as well as full WPML multilingual compatibility ideal for global companies. With responsive design, websites perform optimally in various devices. It keeps the code base clean and customizable.
Regular updates by the developers show that they are interested in keeping WordPress' compatibility status up to date. With regard to customer support, RSTheme is outstanding as addressing issues is simple.
Key Features:
38 complete demos
18 Multi Demos, 20 One-page Demos
Compatible WordPress 6.x.x, Elementor, WooCommerce
One-click demo import
Images and icons included
Elementor integration
RTL support
WooCommerce integration
WPML multilingual compatibility
Responsive design
Clean, documented codebase
Frequent updates
Strong customer support
Professional and polished online presence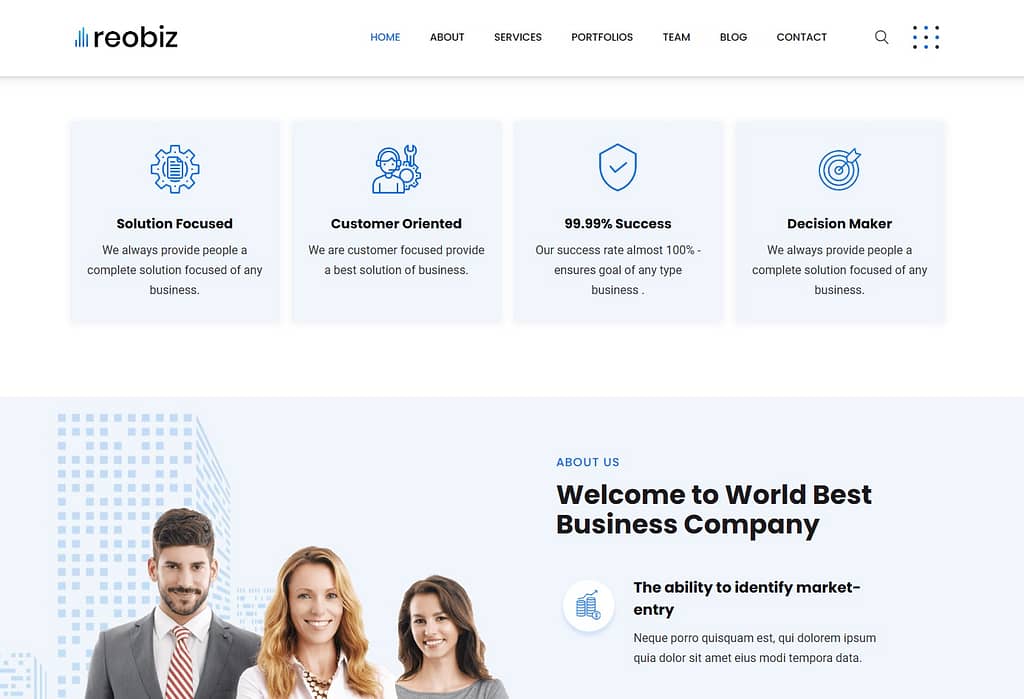 5.Finbiz – Consulting Business WordPress Theme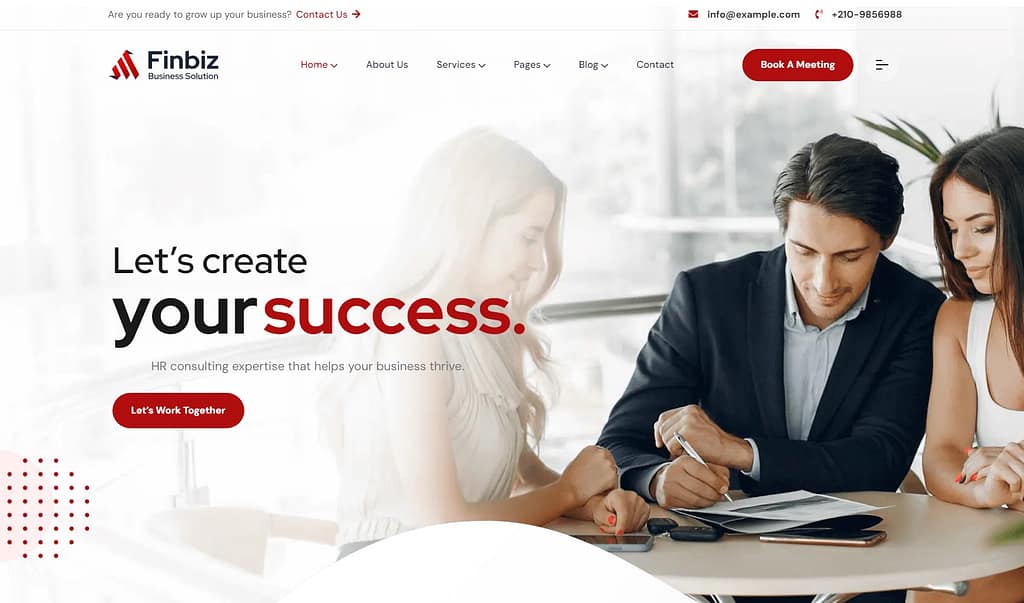 The reacthemes.com theme titled Finbiz – Consulting Business WordPress Theme is a contemporary and professional theme appropriate for financial and business websites. Its design is simple yet very attractive portraying financial services, human resources, insurance, consulting, corporate affairs, IT solutions, products and businesses. It is a fully responsive theme, which allows you to have flawless appearance on each screen and device.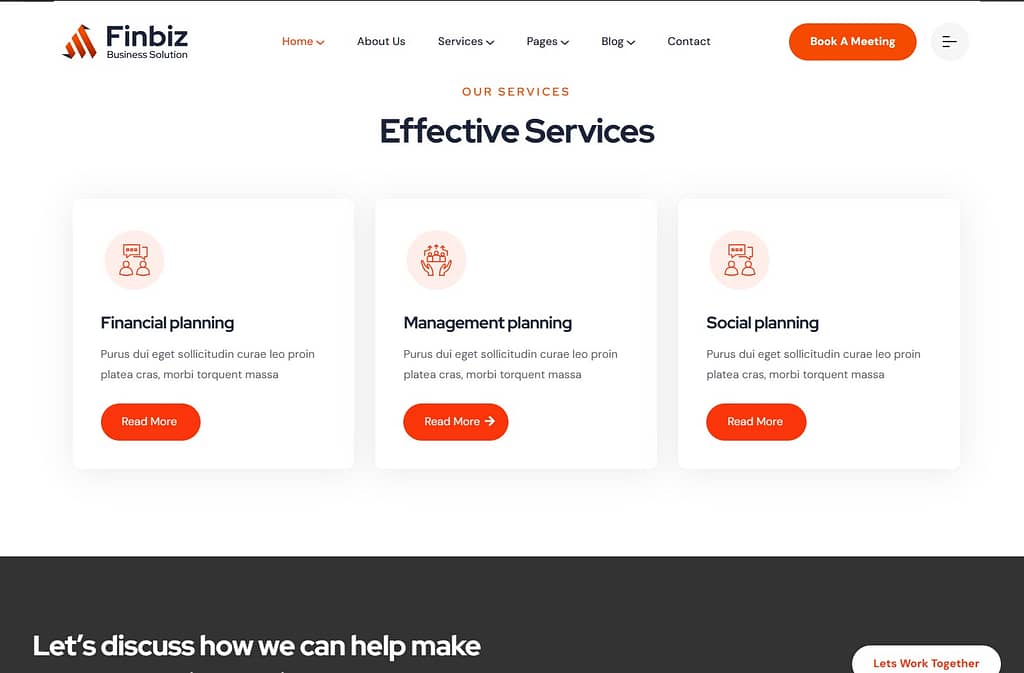 The highlight in the list of advantages is a strong admin panel for adjustment of many details. They offer readymade "about us", "services" and "contact" pages which are quickly available to customize depending on specific needs. It also comes with additional features such as a mega menu builder, custom homepage sections, and numerous blog layout options. The WooCommerce compatible makes it easier to develop online stores.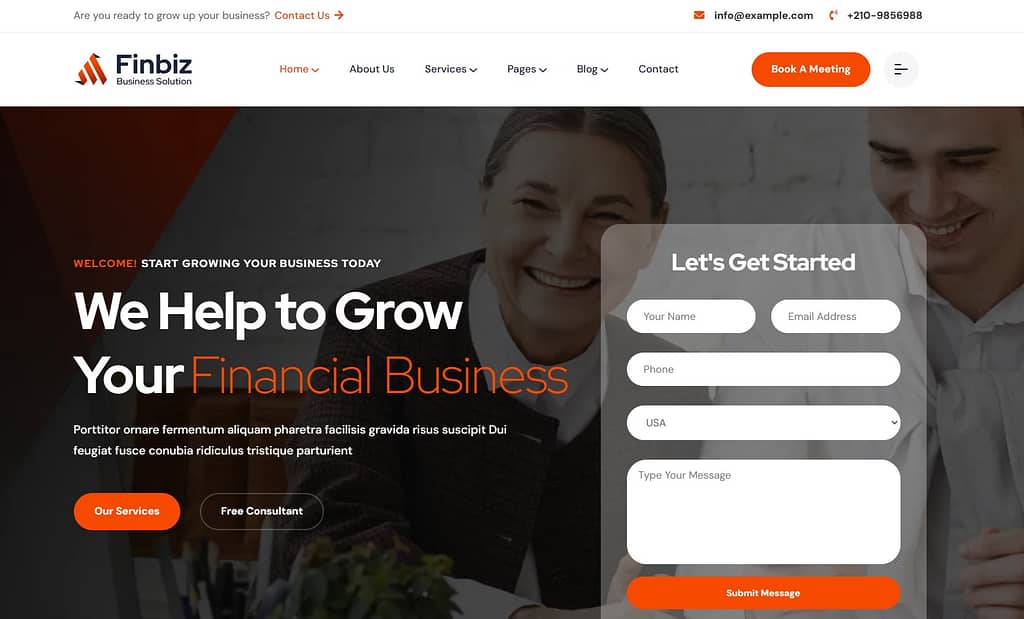 This is an Elementor Page builder theme that makes it easy to create websites for different business. Multiple homepages, one page options, RTL support, different header/footer layouts, and diverse inner pages. The other properties include Google font integration, responsiveness, single click demo installment, and frequent upgrades.
The team is available for support and responsive, and can be contacted directly for help. Extensive documentations allow easy modification to meet the new demands by the end-users. The theme is updated regularly to ensure reliable and up to date experience.
Key Features:
• Modern, professional design
• Showcases financial services, HR, insurance, etc.
• Fully responsive
• Powerful admin customization panel
• Pre-designed pages
• Mega menu, customizable sections
• WooCommerce compatible
• Elementor Page Builder
• Multiple homepages, one-page options
• RTL support, varied layouts
• Inner pages
• Google Fonts, responsive design
• One-click demo install
• Regular updates
• Responsive support
• Comprehensive documentation
• Commitment to reliable experience
• Versatile and feature-rich
• Abundant customization options
• User-friendly interface
• Professional, polished online presence
6. Envolve – Consulting Business WordPress Theme
Envolve is a modern, multipurpose WordPress theme mainly designed for consultancy in different business areas. To make content management easier, Elementor is used as a popular page builder plugin. The focus on drag-and-drop functionality makes customization easy even for a person. It uses WPML to facilitate its translation into many languages to make it accessible on a larger scale.
Envolve also comes with a a responsive and retina-ready layout that will definitely give a nice look in both desktop and mobile phones. They are highly advanced with capabilities like sophisticated typography, compatibility with Contact Form 7, child theme integration facility, and comprehensive manuals to ensure smooth installations.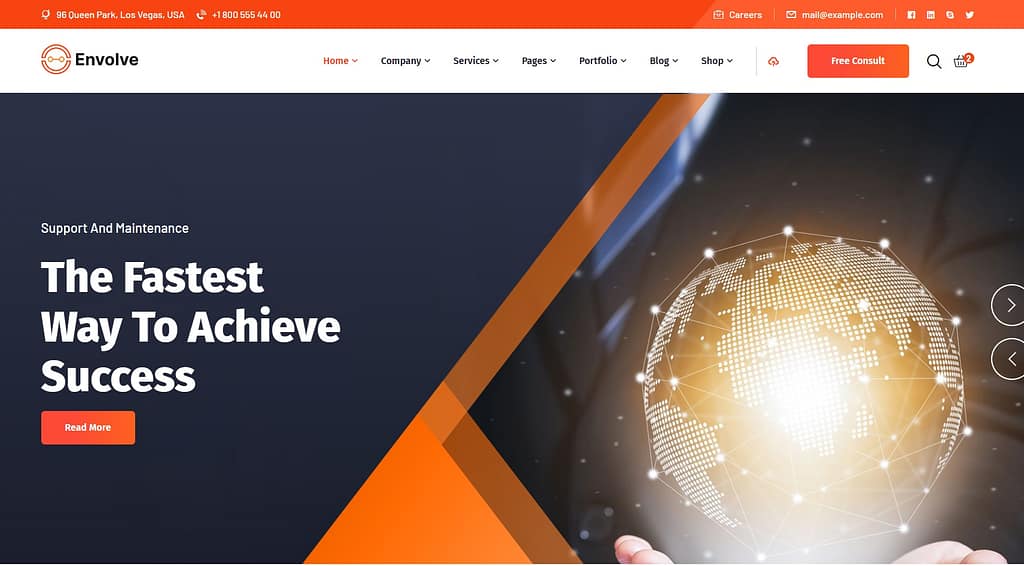 This theme has been improving constantly; it is presently comes with 1.8 versions, with all the WordPress plugins and the WooCommerce fully update. The developers however faced few issues such as fixing the banner problems on inner pages and checking out.
Key Features:
Designed for business consulting
Incorporates Elementor page builder
User-friendly, efficient experience
Drag-and-drop customization
WPML compatibility
Responsive, retina-ready design
Advanced typography
Contact Form 7 compatible
Child theme support
Comprehensive documentation
Regular version updates
Addresses issues
Well-supported
Suitable for consulting, marketing, finance
User-friendly interface
Reliable choice for adaptable online presence
7.Vankine – Insurance & Consulting Business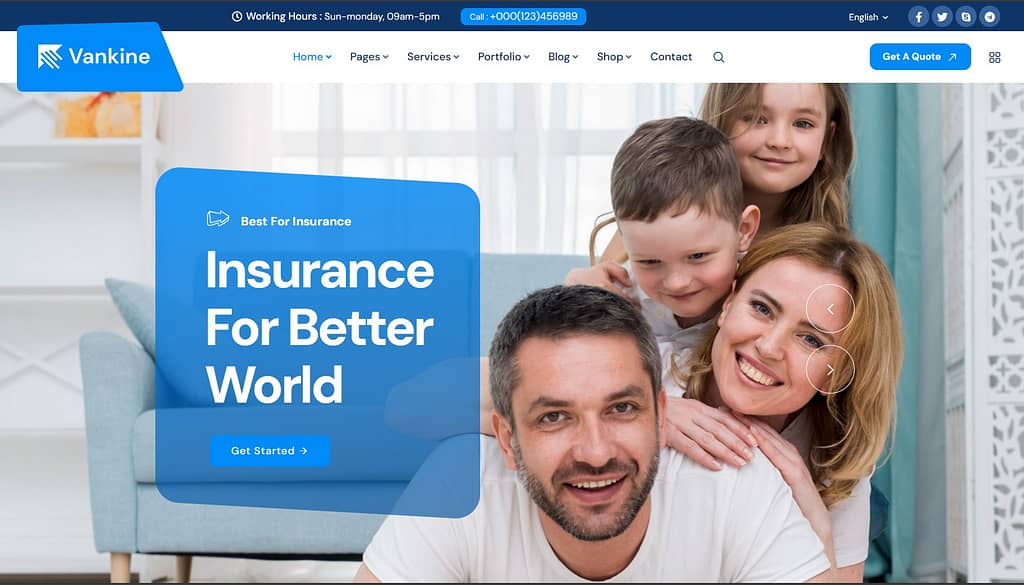 Vankine – startup, consultation and financial services wordpress theme is a strong professional theme for the developing startups, the financial institutions as well as consultations. The customization and live preview features are made possible through the Elementor page builder integration. This is designed to fit together smoothly with woo commerce for straightforward setup of a store.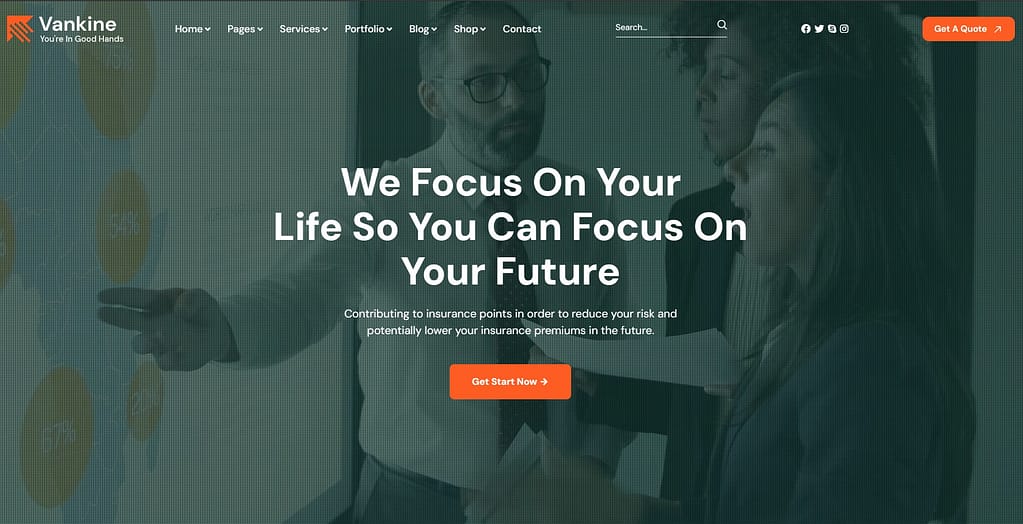 Moreover, Vankine has other added functionalities including fluid responsiveness, multiple homepages designed, advanced admin panel, demo importation and support for WPML multiple languages plugin. There are also updates on the theme by introducing new features and improvements.
Key Features:
Comprehensive, professional theme
For startups, consultancy, finance, insurance
User-friendly Elementor page builder integration
WooCommerce compatibility
Fluid responsiveness
Pre-designed homepages
Advanced admin panel
Demo import
WPML multi-language support
Regular updates
Versatile and reliable
Polished, professional online presence
Ideal for insurance, consulting sectors
Abundant features and customization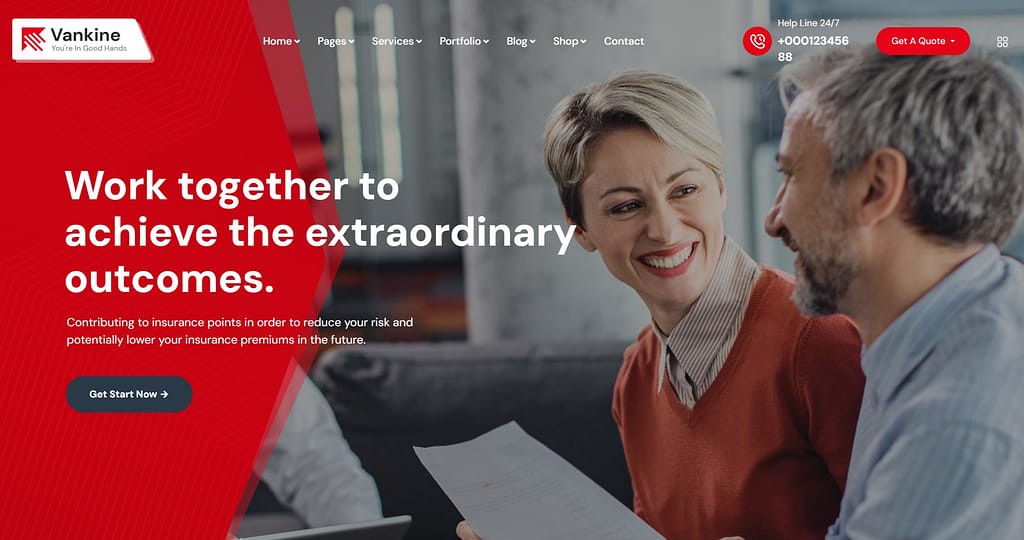 8.Consultancy – Business Consulting WordPress Theme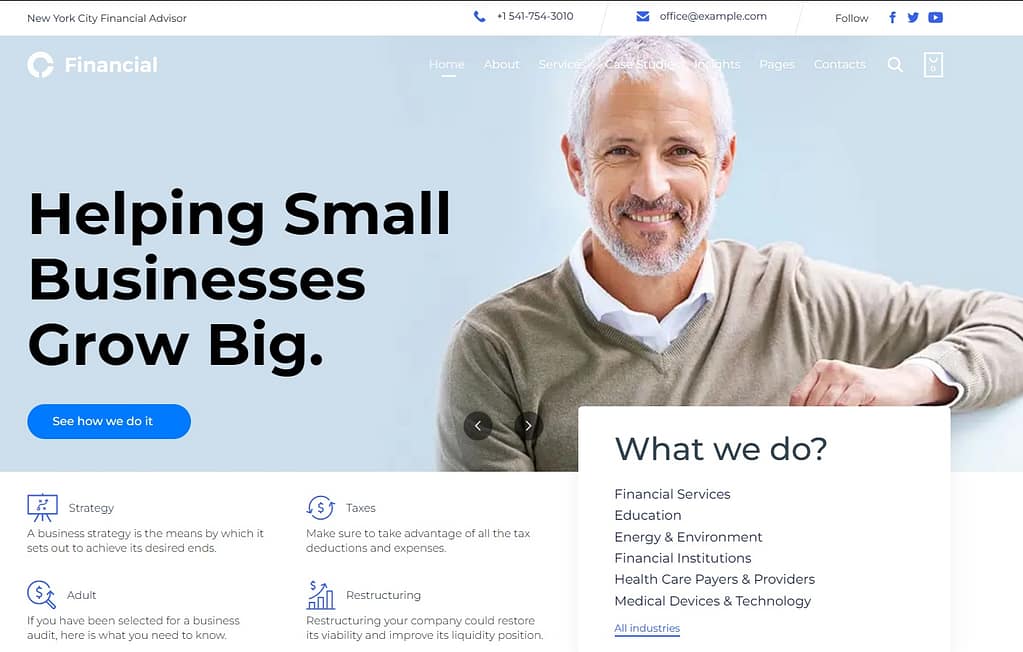 The consultancy – business consulting WordPress theme from vamtam is a good option for the organizations having complete functional attributes. It can be accessed by advanced developers while beginners can use its interface without writing any codes.
Noteworthy characteristics include the prompt assistance (8-hour response times), Beaver site builder, custom mega menu, and integration with WooCommerce. It also comes with auto update function, 23 HD video tutorials for starters, more than 100 help articles and others.
Customization choices, ease of page flow, and high parallax parts for more exciting and appealing designs constitute these points of strength. It also goes with WPML and is reportedly device-friendly hence, the best one on consultancy and finances.
It is also regularly updated, and the latest entry into the database was made on 25 September 2023. These are the Gutenburg WordPress Blocks, which are compatible with different browsers. Its features are high resolution and the possibility of using a widget-ready interface, which seems to be very professional for strong online representation.
Key Features:
Purpose-oriented design
Tailored for consulting, finance
User-friendly interface
Timely support
Beaver Builder demo content
Customizable mega menu
WooCommerce integration
Video tutorials for beginners
Help articles
Automatic updates
Extensive customization options
Smooth page transitions
Parallax sections
WPML compatibility
Responsive design
Regularly updated
Gutenberg optimized
Browser compatibility
High-resolution layout
Widget-ready
Professional, polished look
Robust and reliable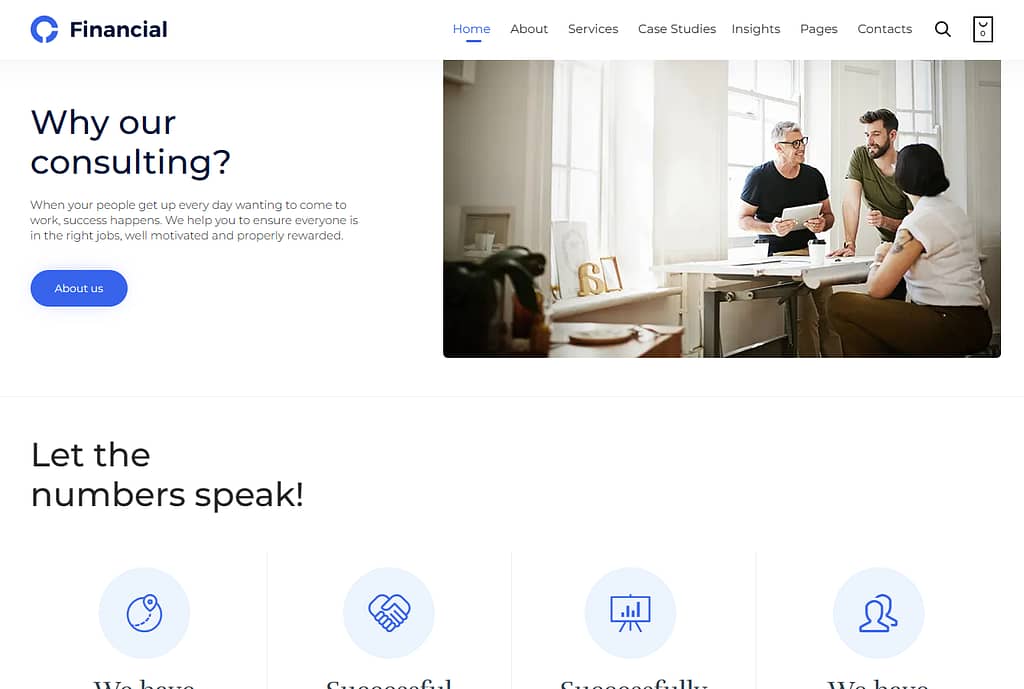 9.Creote – Corporate & Consulting Business Theme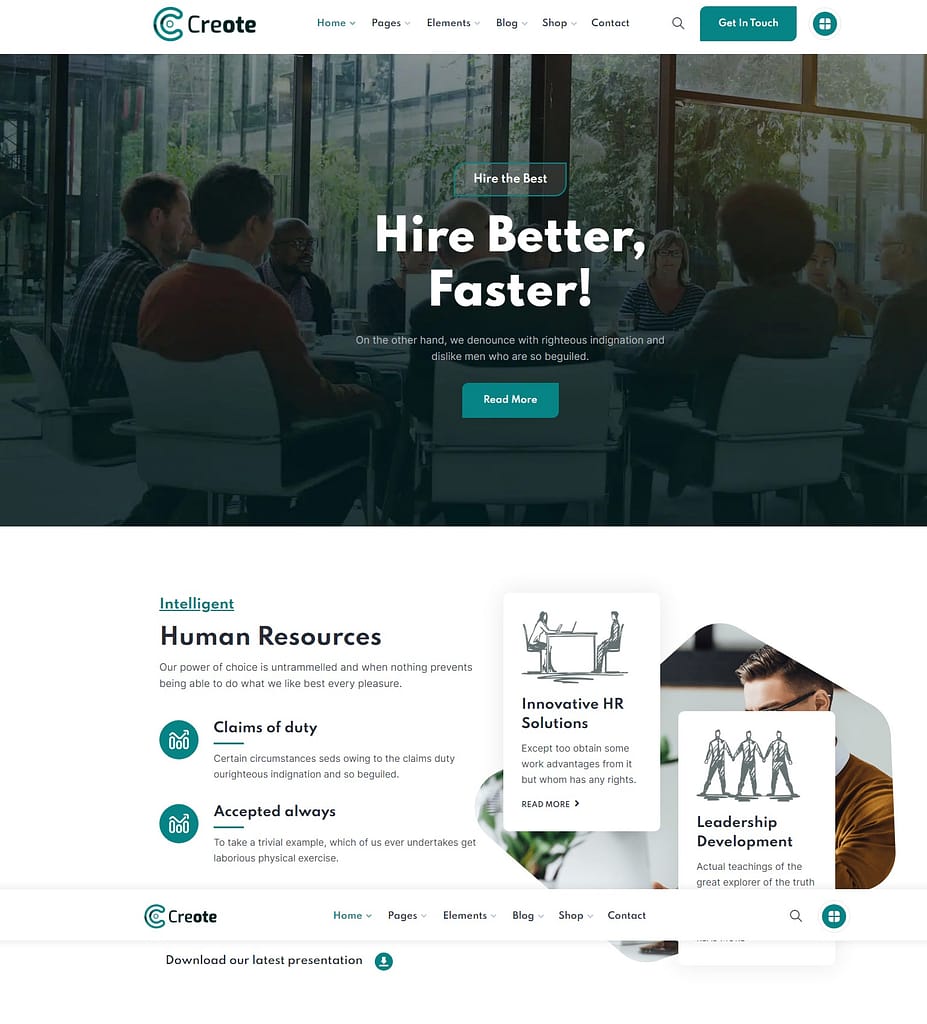 SteelThemes makes a multi-purpose high-grade theme named Creote – Corporate & Consulting which is ideal for a startup, consultant, banks, software house, or any company on a whole. Simplicity in setting up and easy to customize, a theme should be straightforward to use by non-coders' users.
On top of everything, Creote can create outstanding online profiles as well as the stores which are compatible with such known plugins such as WooCommerce and Elementor.
It has been built with some of its great features like it is fully responsive, different kinds of available homes pages, multiple flexible layouts, and instant personalization all this is done for making it easy to be used. It provides limitless improvement updates on constant changes and additions respectively. Besides, there is also a toll-free assist line that provides support in regards to theme installation, troubleshooting, and questions.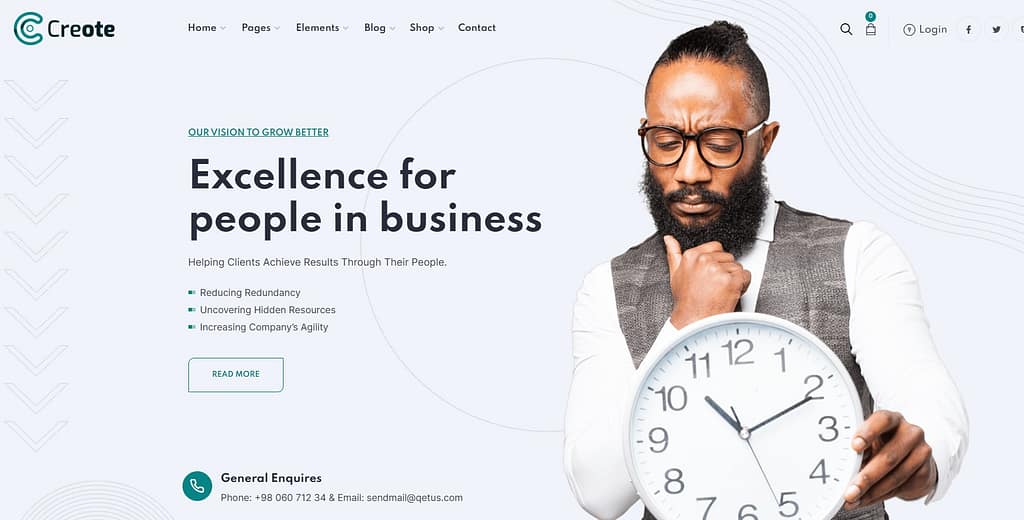 This has been illustrated with several recent updates like 2.6.6 that are aimed to remove redundant functions, make interface friendlier, and add features like autocarousel. Creote works well across browsers and works well with multiple WordPress versions. It comes in handy for organizations that want maximum power of web presence.
Key Features:
•A startup, consulting, finance and tech solution
• Easy setup and customization
• WooCommerce and Elementor compatible
• 100% fluid responsive design
• Multiple pre-designed homepages
• Flexible layout options
• User-friendly interface
• Unlimited updates
• Free support for clients
• Fixes deprecated functions
• Enhances usability
• Auto-carousel feature
• WordPress and plugin compatibility
• Comprehensive documentation
• Well-commented code
• Professional, customizable online presence
• Comprehensive features
• Regular updates
•              Reliable support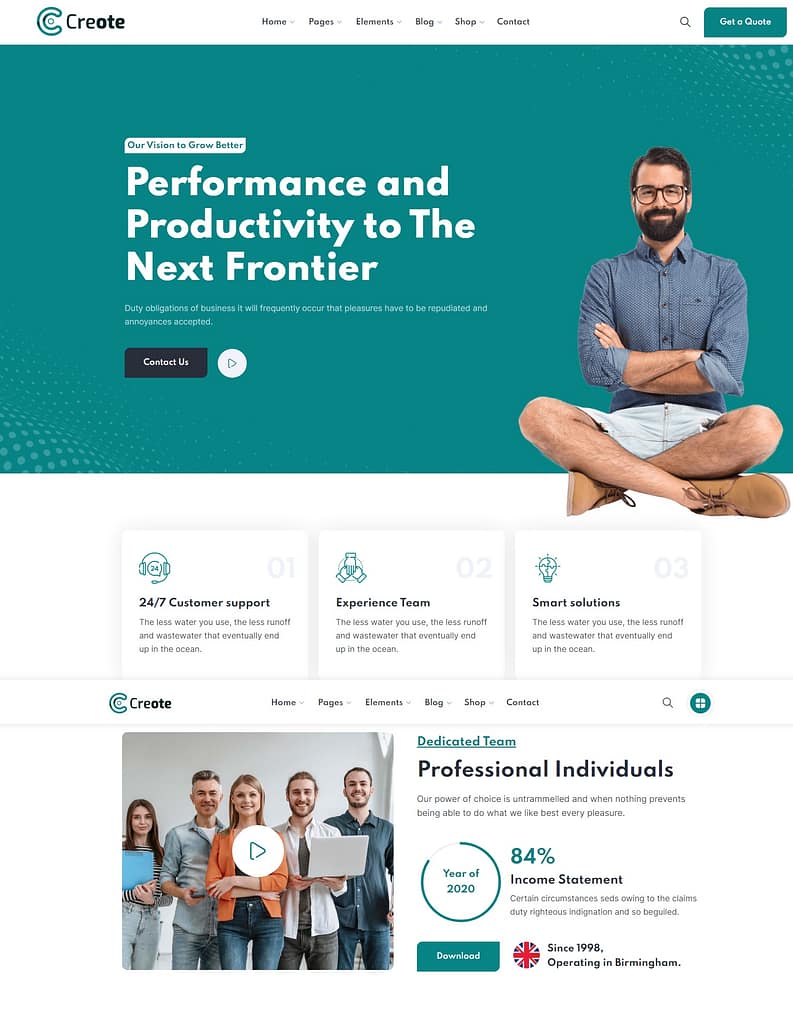 10.FinancePlus WordPress Theme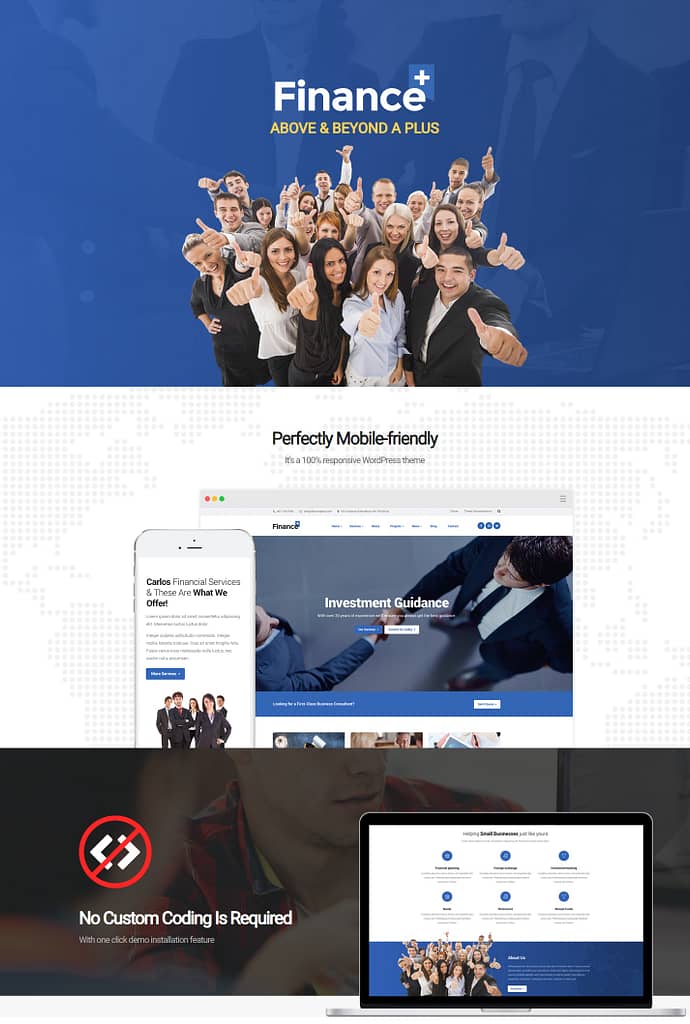 The FinancePlus WP theme is designed for financial & corporate sites. It is professionally designed and equipped with necessary functions useful for the financial advisors, law firm and investment company websites and other intriguing web sites.
Another outstanding characteristic of FinancePlus is the user-friendly page builder, which creates a page through the drag and drop functionality. The site builders offer one dozen color palettes as well as six header types for page branding that the user will use. The theme has been critically appraised positively, and it was nominated for "site of the day" in web design sites such as CSSDesignAwards.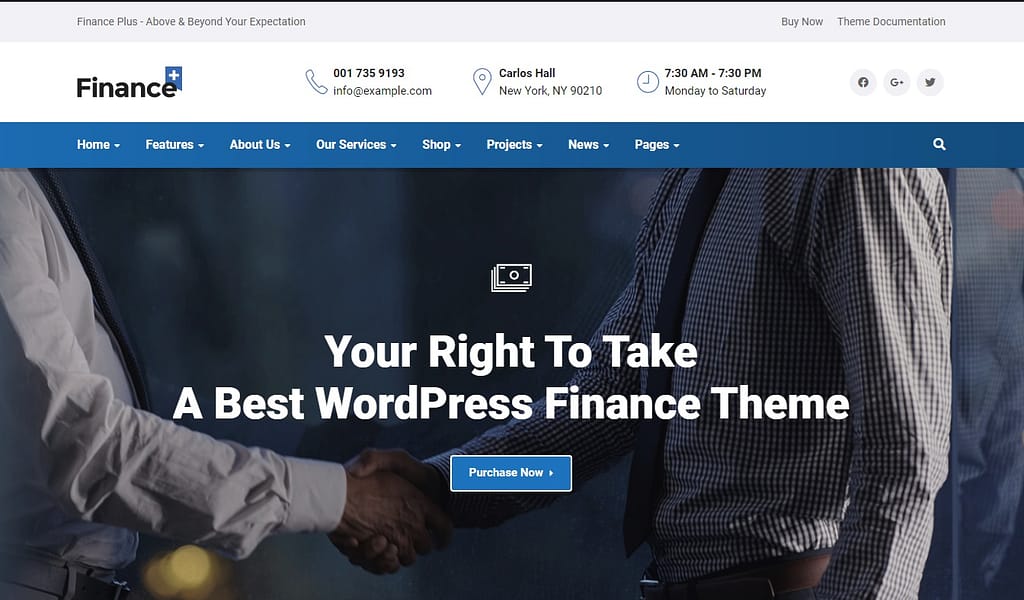 The FinancePlus system is equipped with a number paramount indicators which add visibility in the web-based business environment. It has inbuilt support for E-commerce (WooCommerce) plus it is mobile and SEO friendly. Its theme pack also comes with bundles for its WPBakery Page Builder, Slider Revolution, and Essential Grid plug-ins to customize without slowing it down.
FinancePlus is able to communicate with commonly used plugins like Contact Form 7, MailChimp, and WPML without difficulty. It provides top-class graphics on every screen, even a retina-ready high resolution. The theme is very customizable and its code is neat and nicely commented.
Although there are many documents and support at FinancePlus, you should recall that you do not provide a preview of pictures to subject data when purchased. FinancePlus makes a good choice for a professional theme for a financial, legal or corporate business in WordPress.
Key Features:
A simple drag and drop page builder.
12 brandable templates with different colors for flexibility of application
6 header layout options
Nominated for design (CSS Design Awards, Awwwards)
WooCommerce compatible for e-commerce
Responsive design
SEO optimized
The bundle includes WPBakery, Slider Revolution, and Essential Grid plugins.
MailChimp, Contact Form 7, and WPML ready.
Retina-ready high-resolution display
Clean, well-commented code
Extensive documentation and support
Preview images not included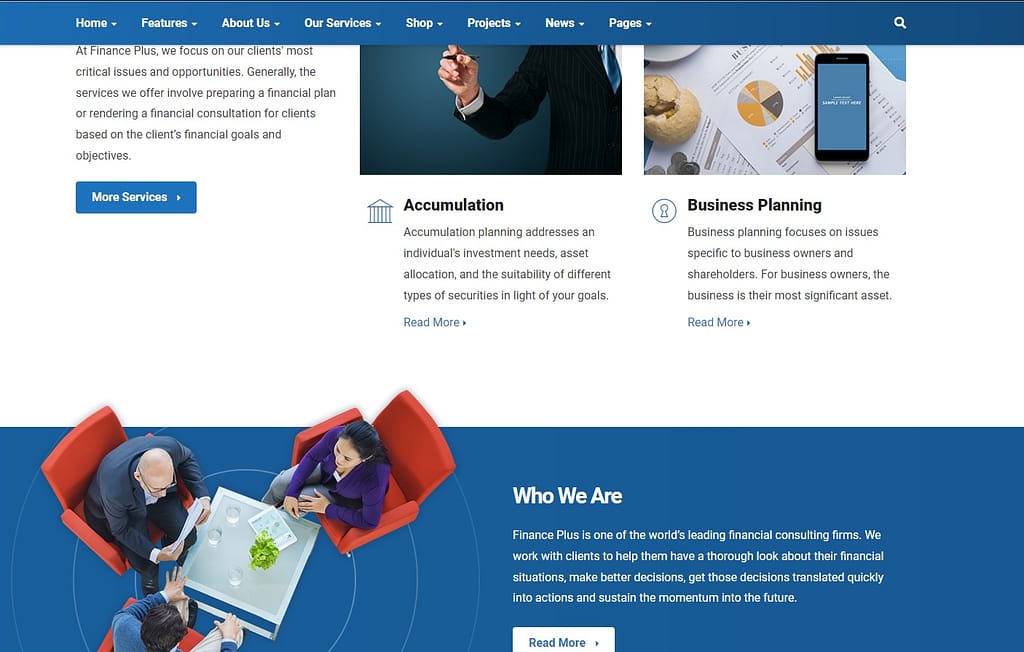 Also read: 5 Best Hair Weave Website Templates in 2023
5 Best Event Planning Website Templates WordPress in 2023