Links are one of the ways Google understands the nature of a site and directs visitors accordingly based on their search keywords. Content creators and businesses create links to increase the likelihood of the website or blog ranking highly on a search engine's results. I have found this to be a proven tactic for marketing and raising brand awareness. Being one of the most powerful and widely used search engines, Google recently changed its guidelines on link spam and if you ask me, this is not something we can afford to miss.
Links spam the latest update
On July 26th, 2021, Google rolled out a change in its guidelines regarding link spam. They launched a new algorithm update called the link spam update, which focuses on identifying and nullifying link spam. The algorithm is far-reaching and can identify links across multiple languages affecting a wide range of links.
Based on my preliminary understanding, some of the best practices to follow, for now, in light of the latest update about external linking are:
Do not purchase links, especially if the link is not relevant to your web page.
Avoid using tools like link generators and content spinners.
Don't link as part of a contractual agreement or a business agreement.
Don't participate in link exchanges. It might be fine to get into relevant link exchanges here and there but do not make it a direct approach to your link building.
Instead, use these tagging conventions to avoid getting penalized by Google. For affiliate links, it is "rel=sponsored," for sponsored links, it is "rel=sponsored," and for guest links, it is "rel=nofollow."
What is link spam for affiliate marketing?
Link spam is the posting of out-of-context links on websites, discussion forums, blog comments, etc., with the sole purpose of increasing a website's ranking in search engines' results. Taking advantage of the link-based algorithms used by search engines, link spammers don't leave comments of any merit or relevance but increase the number of external links of a website they wish to promote by posting on the discussion forums of your website.
The larger number of links made to a page, the higher its ranking will be on search engine results. It means greater visibility over competitors, more visitors to your website, and hence more conversions.
Link farms are closely knit networks of websites that heavily link into each other's websites to influence the search results and rank higher by exploiting the algorithms of search engines.
I'd say that the use of link spam that is out of context with the theme of your website for marketing, that blog or website is considered link spam for affiliate marketing.
What is link spam for guest posting?
Link building is a powerful tactic that results in higher rankings in SEO. If someone links to your website or blog, then it's a backlink. If this backlink comes from a highly reputed website or blog, then the search for your blog or website will be higher in the search results. Guest post spammers want a backlink to their website or their client's site to increase their rankings on the search engine's result page.
Relevance is what separates a guest post spammer from a genuine post blogger. If your website or blog has a particular theme or niche, then anything guest post offer that is not relevant is outright spam.
So, a guest post spam would look something like this:
It would be an offer to represent a blog or website that would not be relevant to you at all
A completely generic guest post request is sent
A request for a backlink is sent, but they don't include their URL
The proposal comes from a generic mail id with a yahoo or Gmail address.
A legitimate guest post blogger is interested in link building to increase their credibility and gain new subscribers and post articles relevant to their field or niche.
Criteria and strategy for link building
Despite the latest update to Google's algorithm in identifying and nullifying links, link building remains the important way to rank high on any search engine's result page. Linking also has other potential benefits. Google will be able to find pages of your website or blog faster. Your credibility increases when you backlink with a reputed website or blog and benefit from targeted referral traffic.
Strategy of Link Building
Strategy is what you will do regarding link building, and tactic is how you do it. A recent survey concluded that guest posting is still the most popular way of link building. It is a common misconception that most link building is resource-intensive. It is not true, and there are plenty of quick-win opportunities like going after the low-hanging fruits. These are the easiest links to get and should be acquired quickly before your competition does the same.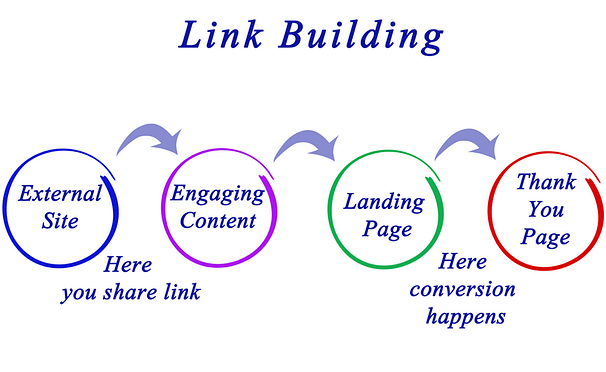 Such wins help us to build a solid foundation for your website or blog and place you on the same level playing field as your competitors who are already using these tactics. Link earning goes a long way in link building. It certainly gives you an edge over your competition. They require a lot of effort, but their rewards are also high. As Google advises, the best way to get to other sites is by creating high-quality content that naturally gains popularity on the internet. A third party will find that content valuable and link to it. In this way, you earn a link when a third party finds value in your content and feels that it will also add value to their audience. It is essential in competitive niches, and your competitors cannot replicate this easily.
Reclaiming lost and broken links are very important. Over time the links are lost or broken when a content creator updates a piece of content and removes the link or simply when the site underwent an update rendering the link to become defunct and redirecting you to page 404 or 301.
So, always be vigilant and reach out to your contact when a link has issues from their end and get it added back or fixed. If the problem is from your end, the page on your site will show a 404 error; you need to redirect it to the most relevant page on your website or make the original page live again.
If you are merchant selling products online, you can attain links to your suppliers' and manufacturers' websites, which you can quickly win. You can check out their websites to see if they link their retailers and check if your store is also mentioned in their lists.
If you belong to a particular industry and are a member of your local industry association, then your local industry association often showcases and links out to their members. In case you aren't listed, then an email requesting you to be added will suffice. It further provides valuable links and helps in link building.
You can also harness the power of platforms like Reddit and Quora. These are great Q&A platforms that can send targeted traffic to your site. They also help you diversify your link profile. To do this first, you must answer questions relevant to your website or niche and produce great content. It builds trust, and then you can provide a link to your website. Do not directly link your website as an answer to the questions there.
Guest Blogging
Guest blogging remains one of the best ways to increase your links and I have made use of these as well. Approaching it the right way and contacting fellow bloggers or content creators who belong to the same niche or field helps you provide the content. They might become interested and backlink to you, adding value to your website or blog, especially if they are highly-reputed. It is also a great way to build your profile and showcase your depth of knowledge.
Reciprocal Links
Reciprocal links also have their values. Google frowns upon reciprocal links when done on a huge scale and is not in tune with your website or niche. But do take the opportunity to link and send referral traffic to a partner in your industry, and in return, they will do the same, leading to a reciprocal link. The context and relevancy are very important in reciprocal links, or else it will backfire.
Link building is still considered important and relevant to rank your website or blog in the search results. As advised by Google, earning links in the right manner is important as it shouldn't result in link spam. Earning links by creating high-quality content that naturally gains popularity on the internet is the best way to build links. Keeping an eye on broken links and maintaining existing links is crucial and helps your website stay relevant. Build links that are relevant to your niche and are within the context you operate.
Also read,
Why Silo Structure and Internal Linking is important in SEO?