Successfully planning and running an event is hard work. The duties of an event's organiser include a lot of work such as selecting a site, arranging logistics, publicity, admission, etc. Having a website that is effective and user friendly can greatly facilitate the process. Therefore, if you have an appropriate website then it will become a source of information and an arena to enlist attendees to an event with anticipation.
WordPress is amongst the top options for event planners who want to build a website for their event. Using the simplest content management system that allows easy customization to create a template for an event web page is just right. Planners can easily set up event pages that will receive instant registrations as well.
This blog will look into some of the best event planning website templates for WordPress. Most templates are created for organizing small local events and large conferences. This paper will consider templates tailored for conferences, workshops, meetings, etc. I will discuss in detail the major options, characteristics, customization, integration capability and usability. In just a matter of minutes, you can set up an elegant and sophisticated site for your event using an appropriate template.
So, let's us check what the most useful event planning website templates are. By offering a variety of themes that can be edited with minimal effort, WordPress now ensures that event planners have an easy time creating an online presence and promoting their events. So look no further; you have found the ideal template for your next successful event.
List of the best event planning website templates WordPress
01. Banquet – Catering and Event Planning Theme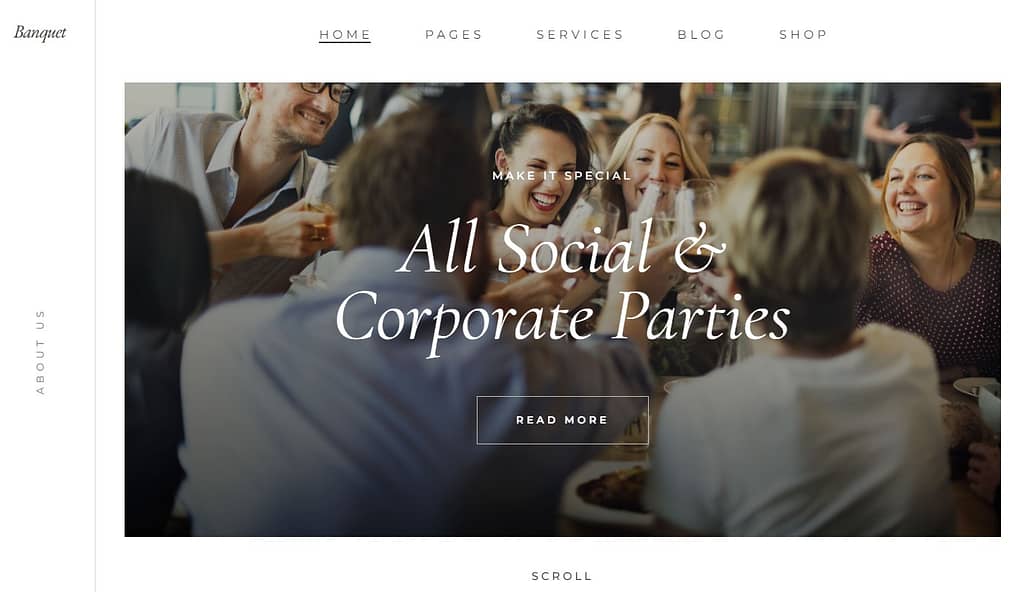 Banquet empowers any individual to design a professional and contemporary website for promoting their event services. You are able to design everything on your own with the user friendly drag and drop Site Builder which includes the layout, images, color, and text for a perfect branding of your website. The template possesses a beautiful look likely to earn the confidence of prospective customers.
It gives you everything you need and even more for an effective online based event planning operations. You have built in ecommerce, for instance, that lets you take reservations with clients and pay deposits as well. It has an intuitive dashboard which is easy to use for responding to inquiries as well as confirmed events.
It is quite easy for you to exhibit your work in banquet, too. Professional photos from past events formatted appealingly are displayed in the photo gallery. Blog, also integrates, space for you to post planning tips, ideas, and behind the scenes stories.
From bookings to full coordination, Banquet helps to take your business to the next level. These include features such as catering menus, testimonies, and contact forms help position you as the preferred event planning resource in your area
Today, event planners need to be present online. Banquet provides a responsive design that allows your site to remain beautiful even when viewed on different gadgets. You do not have to worry about any technical hurdles again; this template sorts it out for you.

Key Features:
Easy personalized customization through drag and drop site builder
Modern, elegant design
The integrated built-in online booking and payment
Event management dashboard
Photo gallery to showcase work
Tips and Ideas for Sharing Blog
Contact forms to capture leads
Social media integration
Event planning and catering services sections
Responsive design optimised for all devices
Handles technical aspects so you can focus on your business
02. Taysta – Wedding Event Planning WordPress Theme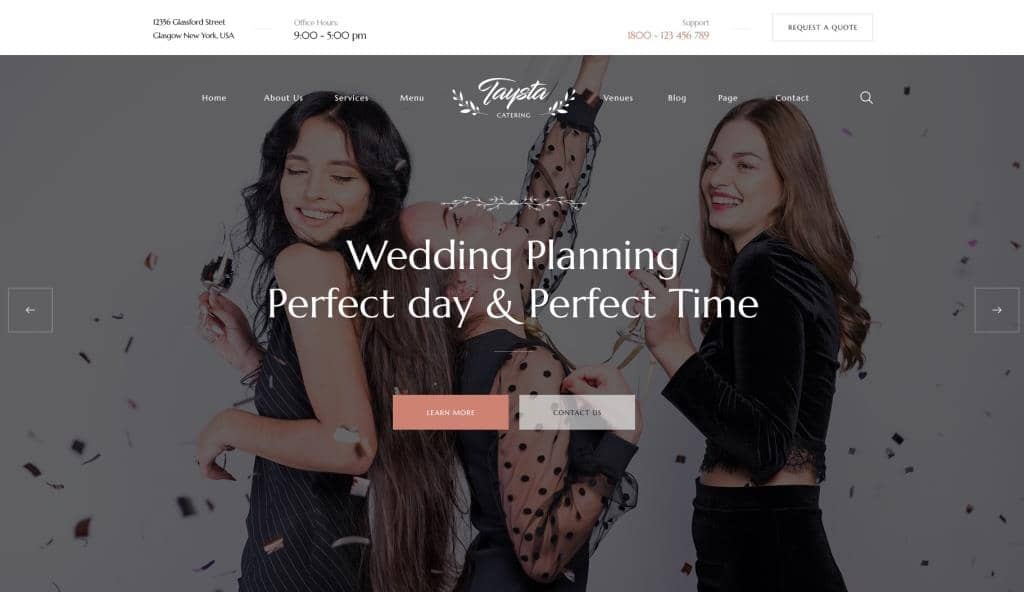 Taysta is a great option for the wedding and event planners website. The theme comes with a clear and simple design and, therefore, ideal for creating an impressive and businesslike website, especially suitable for wedding organizers.
It is also marked by its many homepage layouts. It comes with four separate homepages that can be used to portray one's business in distinct ways. You could make one of these pages the 'home' page and then use the other as a landing page with special services or campaigns. You can also customize the home pages using Elementor and make them look like your brand.
There is a services page within the theme which you can use to detail on all the event planning service you provide. This ensures that prospective couples get to know all aspects of services you offer from the choice of venue to decorations and food provision.
Taysta offers a Venue page which adapts with your clients planning their weddings with you. In this, you will post the major considerations to an event including when, where and cost involved. There are many benefits of utilizing wedding social media marketing
Taysta also allows one to blog about real weddings that he or she has organised. This is good to showcase your works and skills. Lead generation can be boosted by all the romance and memorable moments you capture.
Regarding customization, Taysta is in a league of its own. Endless creative potential, no coding required with integration with Elementor. You will easily have a chance to create new custom pages and change everything from colors to fonts. Moreover, the presence of functional WordPress plugins like Contact Form 7 and SEO-Ready increases functionality.
Responsive design of your website makes it look great on mobile devices. Speed optimizations also ensure that pages load quickly. In this case, this combination ensures that users will have a smooth time browsing on your website.

Key Features:
Selecting readymade home pages.
Showing off offerings in a dedicated services page.
Information on date, place, price.
Ability to blog client stories.
About and other pre-made functional pages.
Elementor integration for easy customization
Compatible with forms plug-in and SEO
Optimized for performance and speed
Fully responsive design
High page and SEO score
Minimalist and modern design
Easily customizable without any coding
Great for event planners and wedding
03. Unica – Event Planning Birthday & Wedding Agency WordPress Theme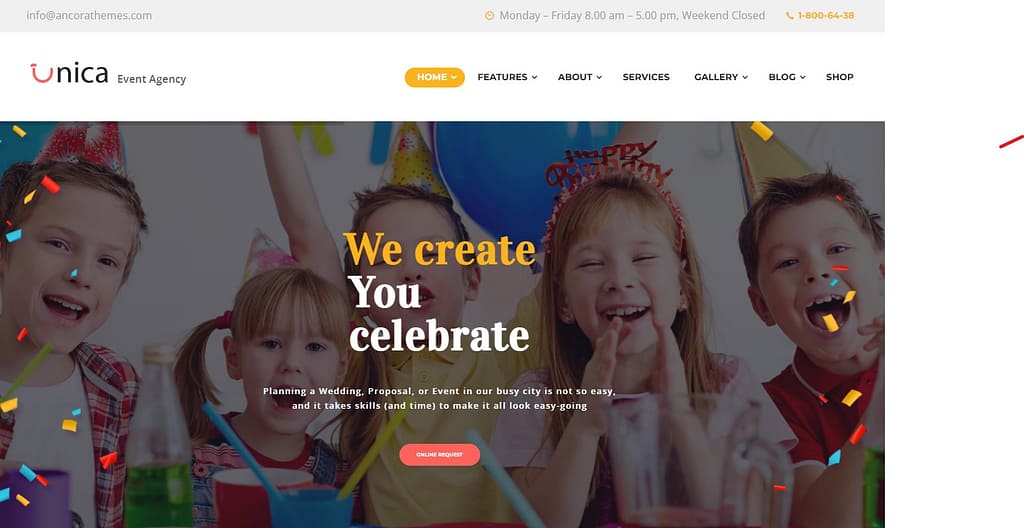 For any event-planning business that wants to come up with a good and well designed site, the Taysta WordPress theme will definitely serve you right. Taysta serves as a wedding and events planning themed template with adequate features and styling options for effective presentation of your website outlook.
Taysta stands out in many ways, especially the fact that it has several pre-made homes that one can select depending on what suits their brand best. Home pages are well-designed with various aspects in them such as service highlights, portfolio, testimonials among others. It is also easy to customize the design, colors, and fonts to align with your branding
Their theme is simply outstanding and shows up very well for event planning website with devoted areas for displaying one's skills. Properly arranged service pages that help the client apprehend your services – starting from venue choice, through decoration, up to banqueting.
Taysta also has an interactive event detail page on which some images can be posted to announce planned events such as weddings, corporate functions, birthday parties among others. Additionally, a built-in RSVP form enhances its event management capabilities.
For tailored requirements, Taysta has the benefit of Elementor page builder. You can even create attractive pages without having any coding skills by simply dragging and dropping content blocks. Other fundamental aspects like blog, contact, and 404 pages make website production simpler.
Taysta is a responsive design that loads pages quickly while optimizing SEO and working with popular plugins in an attempt to make a successful online presence for your event planning brand.
Key Features:
4 pre-made homepages
Sections for services
Customizable event details page
Blog to share stories
Elementor page builder
SEO optimized
Fast loading
Compatible with plugins
Great for event planning site
04. Plan My Day – Wedding Event Planning Agency WordPress Theme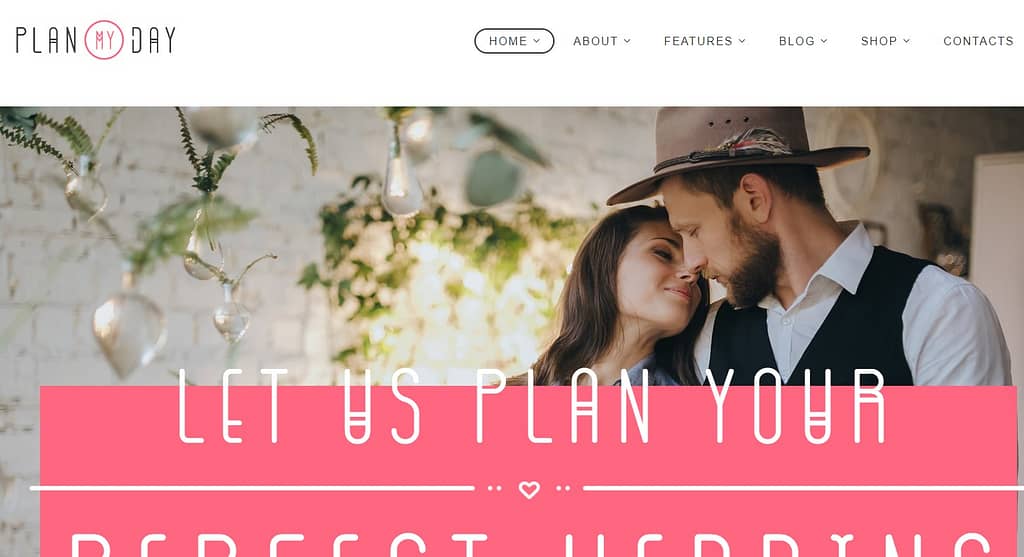 Plan my day is an attractive event planning site templates WordPress theme that is ideal for wedding event planners seeking to develop a wonderful online platform. It is a powerful platform as an event planning website builder for you to have your products displayed.
Plan My Day has a stylish and soft appeal, thus giving it a fresh but contemporary twist making it well-suited for wedding or events planning websites. A responsive design makes sure your site is attractive on any device, computer, tablet, or phone, which is becoming more crucial with our increasing multi-device world.
This is one of the prominent features in that they provide a choice of three top-notch home page layouts. There are numerous templates to choose from where you'll settle for one fitting your brand to draw attention to your services, recent work, testimonials, etc. Built-in portfolio and gallery options allow you to present your previous events in a neat and stylish manner that is perfect for attracting future customers
Integrated contact forms smoothen client communication in Plan My Day as well. You can send emails, call your clients, or they might even inquire about the wedding and event services you offer and request for quotes. Compatible with WooCommerce hence those operating a shopping site can sell services, tickets and products on their sites.
It also involves incorporation of pre-defined short codes and compatibility with WordPress plugins such as WPBakery page builder, slider revolution, and essential grid.
Key features
Fully responsive design
3 homepage layout options
A portfolio/gallery section to exhibit work.
Built-in contact forms
WooCommerce compatibility
Premade shortcodes
Supported by WPBakery and Revolution Slider.
Perfect for wedding and event planner.
Beautiful, clean, and modern design
Customizable with plugins and shortcodes
Showcase services, portfolio, testimonials
Impressive for potential clients
05. PartyMaker | Event Planner & Wedding Agency WordPress Theme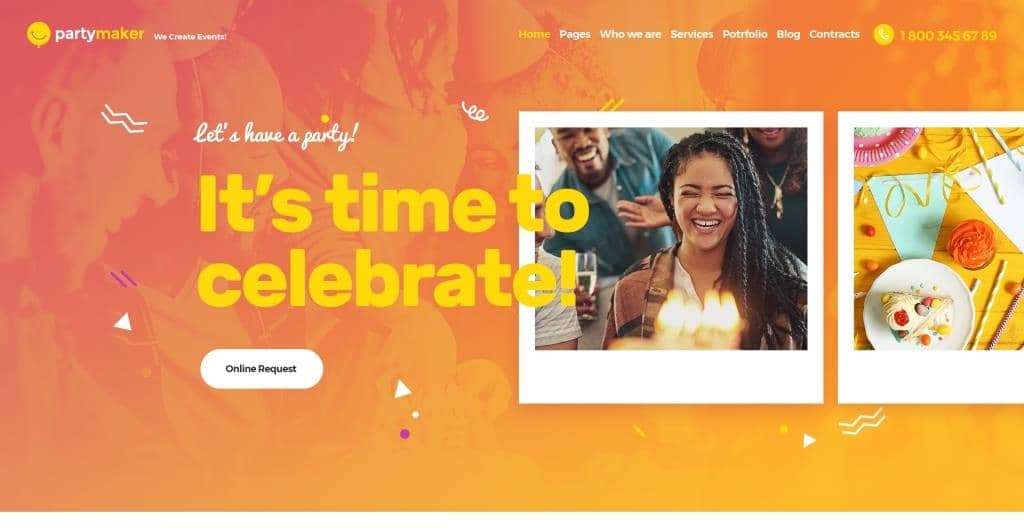 PartyMaker is a sophisticated, responsive theme for event planners, wedding companies, decorators and other catering specialists. It is contemporary in style with an up-to-date appearance which makes it an ideal theme for wedding, birthday or anniversary sites and many other events.
This is professionally designed and very attractive that will make the client happy, and other guests. By a single click the visitor will load the import sample content into the website at once. WooCommerce makes it simple for users to construct a shop and sell items relevant to their activities in event management
It works together with commonly used premium plugins such as Slider Revolution and WPBakery Page Builder, making it possible for you to come up with excellent layouts and sliders. It also comprises Essential Grid and MailChimp for WP plugins that boost the capabilities and services of your site.
There are pre-designed pages for products, services, gallery, blog, and contact. This enables you to display your offerings and interact with your potential clients. PartyMaker is 100% responsive and mobile-oriented making your site perfect in all screens and devices' resolutions.
It is possible to tweak the colors and fonts in a manner that aligns with your brand to achieve a unique aesthetic for your site. To ensure high-quality blog posts, there are several advanced blog settings offered by PartyMaker, including different types of blog styles, various layouts, and post animations.
Key Features:
A professional, sleek look for event managers
One-click demo import
Fully WooCommerce compatible
Compatible with high-end plugins such as Slider Revolution
Pre-made page templates
100% responsive and mobile-friendly
Customizable colors and typography
Flexible blog layouts and designs
Powerful theme options framework
WooTheme compatible with Essential Grid, MailChim, and WooCommerce
Also read,