Construction business? Looking to boost your business's online presence? If so, you're here.
No kidding! Today, all businesses need websites. Many contractors have no idea how to build a website. Don't worry—I'll show you some of the best contractor website templates that will help to build a website in no time. You heard right! So, start.
Why do we need a website template?
Premade website templates: why?
Website templates have many benefits. It's possible you can't afford a website's design and development. You may not have the time or skill to build a website. A general website contractor template can save time and money.
• Easy to use—Most contractor website templates include drag-and-drop editors for easy site customization. They are usually usable without coding. However, your provider will affect the template's usability.
• Affordable—Using a template is cheaper than hiring a web developer to build a custom site. Buying a pre-made website template can save time and money. However, skilled web developers cost money. Thus, pre-made templates are best.
• High adaptability—Most website themes have many built-in features and functionalities you can use right away. Not always. Contractor website themes aren't customizable. Before buying a template, research and ask questions.
List of the best General contractor website templates
Pre-designed construction website templates meet industry needs. They offer a high-quality platform for showcasing skills and offerings to potential clients. This article presents several well-designed construction website templates. Here are building company website templates. Check out
01. Nuuk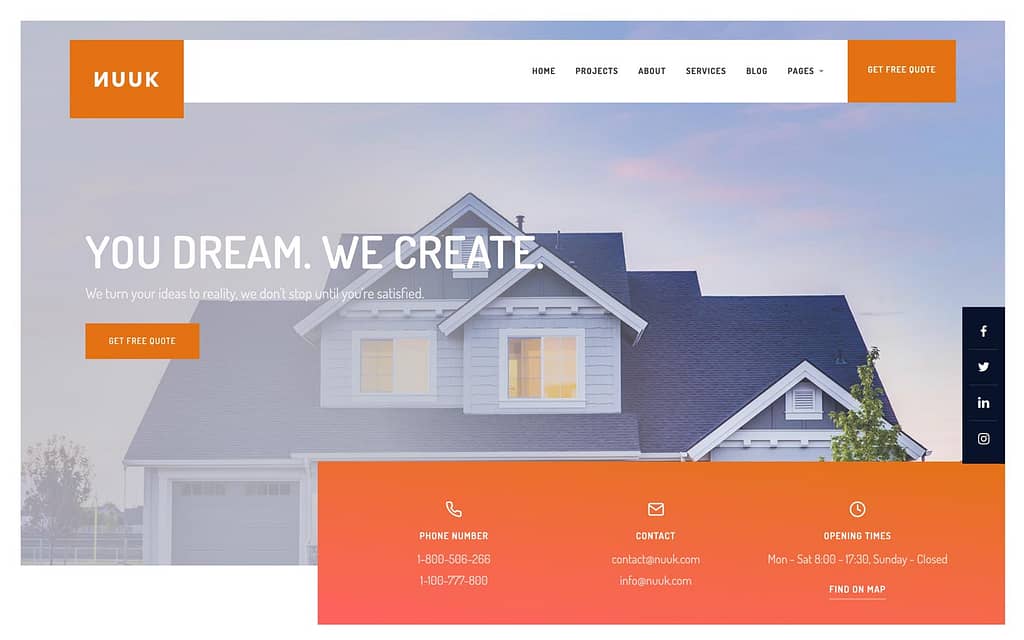 Nuuk is a popular constructor website template. The template helps general contractors promote electrical, building, and other essential services. Its clean, simple design works on all screen sizes. High-performance, retina-responsive design template Nuuk. Its features are intriguing. It has the most resources for starting with the template. Nuuk lets you build a responsive site quickly. It also beautifies your construction company's website.
02. Moos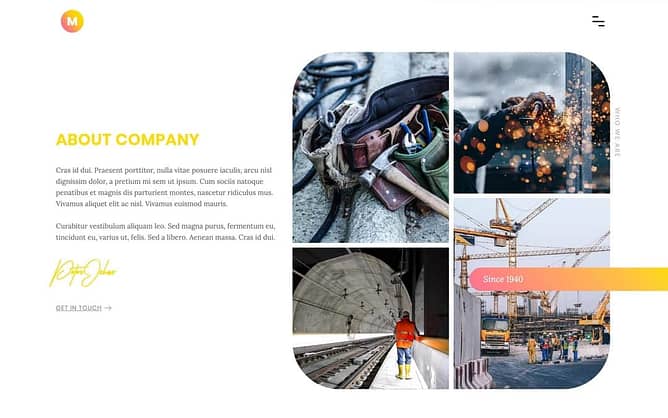 The Moos template is ideal for construction companies looking to go online. This template benefits any building firm. It offers pleasant and trouble-free features. The template's attractive shapes, moving menus, and parallax imagery improve website design. Moos is a flexible template that lets you customize the website to your liking.
03. Jevelin
Easily launch multiple websites with Jevelin. Pre-made examples can speed up page creation. You can customize Jevelin's theme without touching the code. Jevelin is a one-stop shop. Video and online documentation teach WordPress beginners everything they need to know. Jevelin provides everything you need to create a unique WordPress website.
04. Koncrete
It is the most popular construction template. Four homepage layouts can be easily customized. These pre-made pages are customizable in layout, font, and color. Koncrete automatically adjusts to any screen size. A carousel slider is included for creating sliders with happy customer feedback.
05. Wilcon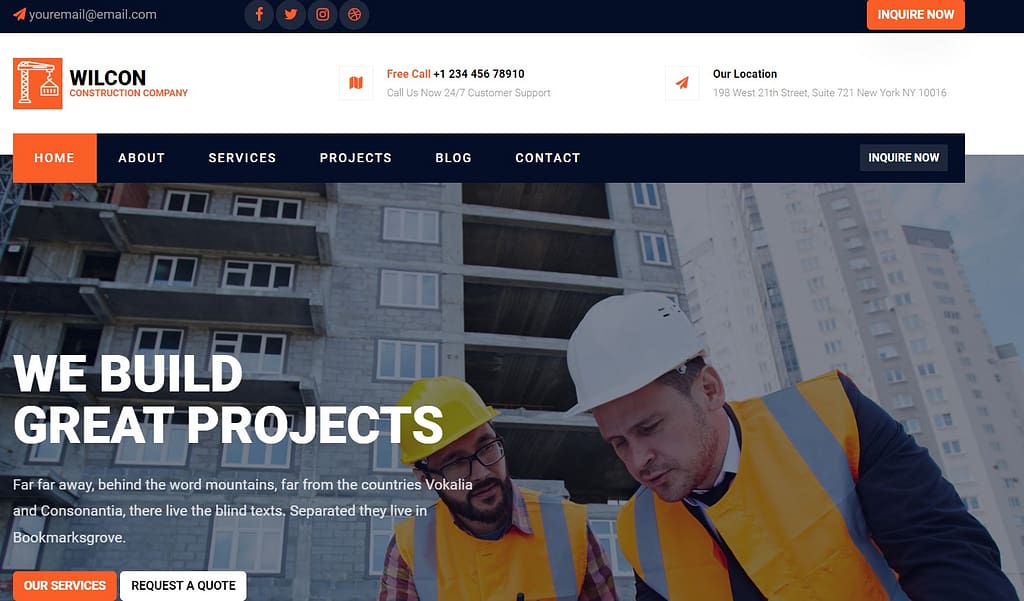 Wilcon is a clean, free template with building industry tools. The finished product will be luxurious. This website template is free if you don't change the footer copyright notice. Keep in mind that it's completely customizable to your company's goals. Wilcon has social media iconology, animated statistics, and customer testimonials. Here are only a few kit contents. Wilcon's Bootstrap layout is fully adaptable.
Which website template is best for your business?
Selecting a website template involves several factors. Consider why you're making this website. What are your goals? Why you're building a website will determine its features.
Remember your audience.
Which website would they like best? If in doubt, ask. The internet and our blog have a lot of information.
Functionality
Make sure a template has everything you need. If not, you may need a new template or code to make it work. Changing the template may require professional assistance.
Usability
Choose an easy-to-implement format for you and your team. Your website should be easy to manage and change.
Support and regular updates
Choose a website template host that actively updates and assists clients. This method simplifies website maintenance.
Can pre-made contractor website templates rank well?
It's unclear. Why? Because changing a template can affect SEO. Using unoptimized templates can hurt SEO. Consider these when choosing an SEO-friendly website template:
• Check that the template is mobile-friendly on different devices.
• Check if templates allow SEO customization.
• Load the template quickly. Google considers it very important when ranking.
• Update templates regularly and include the latest technology.
How do I SEO-optimize my builder website template?
If you want your construction website to rank well in SEO, use a fast, clean template.
The website must be mobile-friendly and use keywords and high-quality images.
Do pre-built building website templates offer other customer service?
Most construction website templates offer customer service or after-sales support.
For this, FAQs, user guides, video tutorials, and email support may be provided. Some template providers offer phone and chat support. If you have problems customizing or using a template, choose a source with responsive customer support. Some providers offer domain registration, hosting, and professional design.
Conclusion
Today's done. I hope you found the best building website template for your business after browsing our lists. Before choosing, check the template previews, descriptions, and features. If it meets all your requirements, you can purchase and quickly develop your construction firm's website.
Please share this post to help others find a construction website template faster and cheaper.