Backlinks are the backbone of SEO, and this is told to us by none other than Google. Backlinks make or break your rankings on the search results page. To increase your rankings and eventually hit the first search on a search results page, you need backlinks. That is why link building is an important strategy, and quality links will always outperform links purchased in bulk. These are inbound links linking one website to a page on another website. Google and other search engines view backlinks as votes of confidence for specific pages or websites, and websites having more backlinks will rank higher on the search result page.
If you produce quality content on your website or blog and have harnessed good quality backlinks over time, you need to be vigilant from competitors who might steal them from you to get your audience to see their content. It shall also help you increase their rankings. A competitor researching your link-building strategy and overthrowing it is called competitor backlinking.
How a competitor can manipulate you by checking out your backlinking?
A competitor can check out your link profile by just following a few steps. First, they would need to identify the target keywords. Every target keyword is required that contribute to the search engine visibility. Using a keyword tool, they can understand which keywords are prevalent on their site. They take note of their top-performing keywords to identify their competition.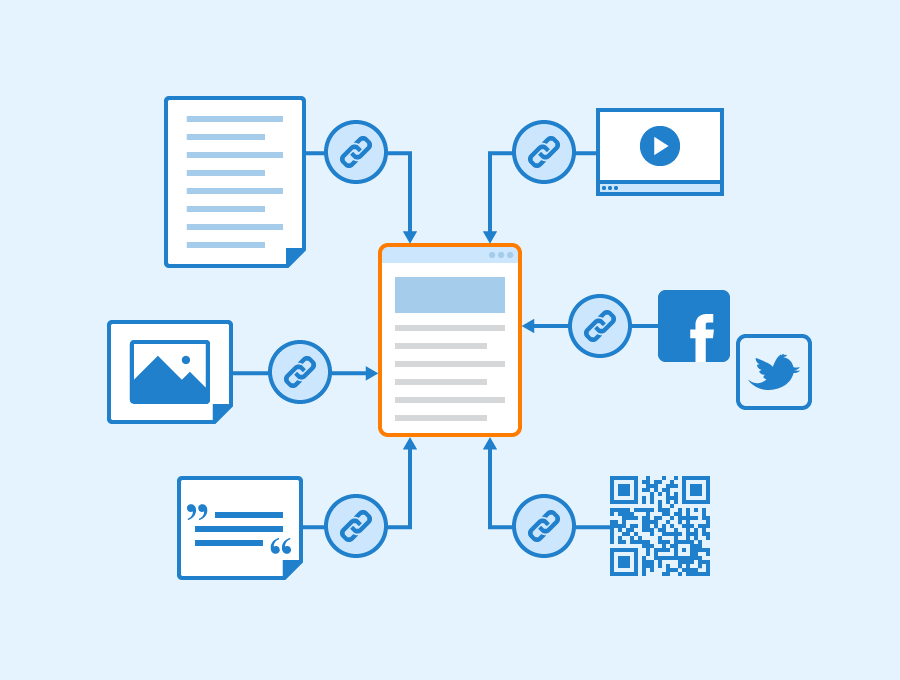 By identifying their top keywords and doing a close search on Google, you can identify your competitors. Google will rank the websites that are relevant to the keywords specified. Also, you can use a tool like Spyfu. If competitor types in their website and click on the competitors' tab, a list of related websites is compiled. This tool is convenient and shows how much your website overlaps a competitor's website and how many keywords are in common.
There are two types of competitors, domain-level competitors, and page-level competitors. Competitors that compete with you on the search engine rank page, on the whole, are domain-level competitors. They compete with you on many search terms across many web pages. Ahrefs provides this facility, and by entering their domain, a competitor can get a list of competing domains.
Page-level competitors compete with you on certain keywords at a page level. Though they don't compete with your site, on the whole, their articles can knock off your posts to claim most of the traffic.
A backlink checker will allow a competitor to delve into the linking domains. There are many tools for this, but the Moz link explorer enables a competitor to analyze your top backlinks for free. The competitor needs to identify the domain and page competitors with high domain authority, high page scores, and low spam scores. This results in a list of backlinks being compiled.
High domain authority or a high page score means that Google or any other search engine ranks them highly on their search page result. More visitors visit these sites generating more clicks and more conversions.
Once a list is created, all links won't be quality backlinks. An analysis is necessary for weeding out the toxic links. Your competition can easily do that by using a tool like SEMrush's Backlink Audit tool. It shows which links are toxic, and after the analysis, only healthy backlinks will remain.
Now, replicating these backlinks are easy. The competitor will see how you acquired these links in the first place. For example, get these backlinks from answering a question on Quora by providing quality content. They will do the same and offer answers to a question belonging to their niche and provide a link to their website.
Surprisingly, the tactics described above all come under the white hat category and don't violate Google's quality guidelines.
You Must Understand the Google Link Spam and Quality Guidelines
Google recently rolled out the change in their algorithm on July 26th, 2021. They have updated their algorithm to identify and nullify links across multiple languages. Links that aren't relevant to your content are spam links and dilute a reader's experience when visiting your blog or website.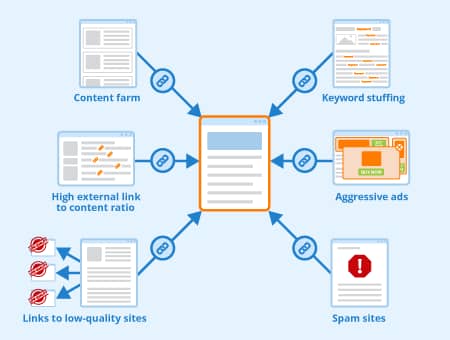 Google condones focusing on high-quality content to make your website gain popularity on the internet naturally by tagging appropriate links and belonging to your niche. If you use affiliate links to monetize your website, Google asks you to qualify such links as rel = "sponsored".
Failing to qualify links appropriately will make Google issue manual actions to prevent these links from affecting the search results.
When Google has levied penalties on your website or blog, you can contact site owners of the dubious links to remove them from your site, but if they don't respond or they are unwilling to do so, you can use the Google disavow tool to weed out such toxic links.
Also read,
What Should Be the Backlink Strategy after the link Spam Update of Google?
Remove Bad Links by using The Google Disavow Tool
This tool comes in handy when you have links that you are unable to remove yourself. Dubious links that don't add value to your website or blog and are not relevant to you in any way except for incurring the wrath of Google will be removed.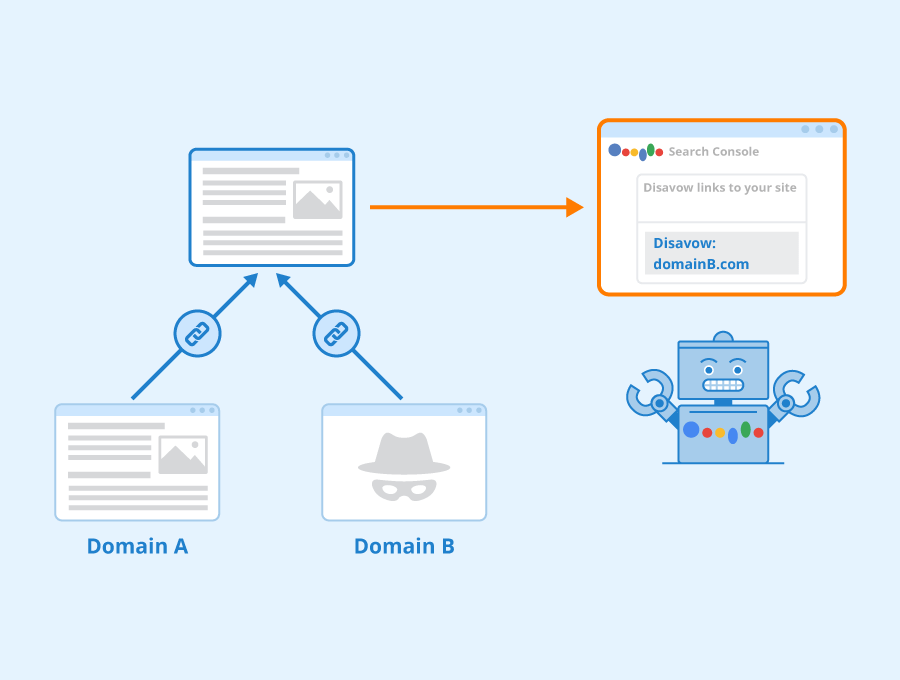 You can start by creating a list of links to disavow and putting them in a text file, and uploading it to the tool.
You must be the website owner to upload the disavow list. You can add a new list for a select property or add a new property to the tool and then upload your list.
Google will take a few weeks to weed out the spam links from your property.
All this should not discourage you from having an excellent link-building strategy. If your competitors are ranking high on the search result pages, you should analyze it and use it to your advantage.
Should You Build Backlinks on Your Competitor's Links?
Analyzing your competition's backlink and replicating the same is the fastest way to guide traffic to your website or blog. Doing the right track with white hat techniques can be beneficial to your website without alerting Google. Many website owners have built on their competitor's backlinks and have seen their own backlinks increase by 20%.
Backlinking and content marketing are game-changers in the SEO world. You can harness the potential of both to gain better rankings on a search result page. 90% of all traffic goes to the top spot on a search result page, leading to more clicks. You can also build quality backlinks by analyzing your competitors' backlinks and scaling up the rankings. It also helps in gathering new ideas for your link-building strategies.
By building backlinks on your competitor's links, you can divert most of the traffic to your website. At the same time, you need to keep Google's guidelines in mind while building your strategy for creating backlinks. There are many tools available online that help you in analyzing the profile of your competitor's backlinks. Suppose you find a competitor competing with you in the same niche suitable. In that case, you can also approach them directly for an affiliate backlink earning you essential links that help get the visitors to visit your website. Your competitor can also gain by having your audience visit their website, making it a win-win situation.
Hence how you build your links and what strategy you use entirely depends on you. Link building takes time and cannot be earned overnight. Quality links are relevant to you and belong to your niche, so analyzing your competition carefully and replicating their strategies will pay off in the long run. At the same time, you must audit your link profile from time to time and weed out bad links. If some toxic links are difficult to remove using the Google disavow tool, you can weed them out.