An SEO audit is an evaluative process that analyzes how well the contents on a website are conforming to the best SEO practices and performing on the search engines. SEO refers to search engine optimization and an SEO audit examines the effectiveness of optimization efforts in marketing. As suggested by the name, the audit is carried out based on optimization factors of search engines to determine if the contents are getting ranked higher as planned on the search engines which will increase a brand's exposure.
Research has shown that of all the contents floating about on the search engines, the first 5 organic results on the first page of the search results account for approximately 67.60% of all the clicks. An SEO audit is the first step in creating an implementation plan which will provide measurable results. The purpose of an SEO audit is to identify any underlying issues that are affecting or will affect the organic search performance and mitigate them. An SEO audit will reveal website structure issues, potential off-site problems, on-page SEO issues, technical SEO issues, user experience issues, competitive marketplace insights, content gaps and opportunities, page speed, crawl budget analysis, etc.
An SEO audit is a comprehensive process that covers both content and structural components that affect SEO visibility. It paints the bigger picture of what is happening with the ongoing marketing efforts and identifies any missing pieces that are not functioning appropriately or require correction.  It provides an insight into priorities revenue and goals for a brand and makes all the registry recommendations needed to ladder up to the overarching business objectives. All SEO audit recommendations lay out a clear path to an actionable set off effort which guarantees a scalable result after the implementation of each recommendation.
A common mistake with SEO audits is being implemented at the later stages of launching a campaign and being rushed by business owners. An SEO audit is simply very sophisticated which takes time for uncovering the root causes that are affecting a brand's online health and depending on the size of a site, a standard SEO audit takes about two to six weeks to complete. Due diligence must be adopted while implementing any major changes to a website and an SEO expert must be very thorough during the investigation for ensuring impactful and accurate recommendations.
A look into the importance of SEO audits to attract
incoming traffic
Ahrefs conducted an in detail analytical study into the performance of majority pages on the internet meant for marketing.  The study revealed that almost 96.3% of the pages don't get any organic traffic from Google while only 5.7% of the pages will get a placement within the first page of the search results. Besides, approximately 25.02% of pages don't have a meta description and 40.61% of pages have meta descriptions that truncate. The graph below clearly demonstrates the statistical analysis.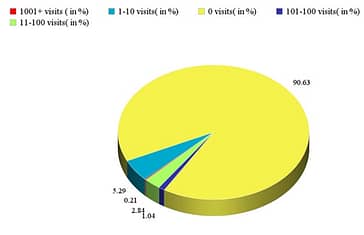 The staggering statistics depicting the failure of so many pages prove why SEO audits are of the utmost importance for the success of a business as all the aforesaid issues are easily solvable through audits.
What's the difference between a good and a great SEO audit?
An SEO audit is not one size fits all. While the technicalities and data analysis are of similar types for all websites, a situational analysis is at the core of an excellent SEO audit that will result in an accurate estimation of the rate of incoming organic traffic and conversion.
Is it necessary to conduct SEO audits on a regular
basis?
The internet is now swarming with contents making it very difficult for pages to rank within the first few results of the search engine. A web page is the face of a brand and can be referred to as a living digital property that naturally does not remain stagnant for elongated time periods. This is why any website must be audited at least once a year. Preferably an SEO audit must be performed at the onset of a new project and during the starting of a new quarter. But then again the size of a website is also a determinant factor as to how often an audit should be carried out.
One of the key takeaways of an SEO audit is to stay competitive in the market. Only a strong technical foundation is not the end goal of SEO success. A professional SEO analyst also focuses on the website's SEO activity as well as the newest developments with the search engine algorithms. All of these elements combined delay make a successful SEO strategy and is the corollary to an effective audit for SEO maintenance.
In general, an SEO audit is based on four factors – on-page analysis, off-page analysis, technical analysis, and keyword research.
Technical analysis: This is the first step in an SEO audit to ensure that the website is working properly because it's impossible to build a successful website on a bad basis. To simplify, an SEO audit examines the accessibility and indexability of a website through technical analysis. Accessibility refers to the users' ability as well as Google's access to the website. If a website is not findable to potential visitors, any published content is utterly useless. The audit keeps a check on various aspects of a website such as meta tags XML sitemaps redirects website speed, robots.txt file, etc. For appeasing Google algorithms as well as satisfy users.
Indexability goes hand in hand with accessibility its reference to the pages that come up in the search engine after accessing them. The check for indexability is mostly done because Google penalizes certain contents which after evaluation reveal an accessibility issue or a minor problem that can be swiftly rectified by performing a technical analysis.
On-page analysis: The own page analysis is focused on individual page issues and general content issues. This addresses issues such as originality, repetition, quality, and layout after published content on the website. Approximately 57% of marketing executives have established through a study that on-page development was one of the most effective SEO tactics and successful marketing affords which signifies the importance of SEO audits for on-page development.
Off-page analysis: It signifies the strength of the website domain dictated by the trust factor it has earned so far. A study showed that almost 91% of all pages on Google never get any organic traffic because they don't have backlinks while 55.24% of published pages don't have a single backlink. This points to the fact that such pages never underwent an SEO audit which has detrimentally affected their performance.
Backlinking is the main element of off-site SEO which gives a piece of content an authoritative presence that the algorithms interpret as a vote of confidence and allocates the content a higher placement on the results pages. The higher a page ranks the more its visibility increases attracting more clicks from potential customers.
Keyword research and competitor analysis: The choice of keywords and their saturation within the content creates the framework for successful optimization. Keyword research identifies the keywords on the Internet which are in trend as well as used by competitors and has a search volume in Google. Approximately 3.5 billion Google searches are made every single day and the number grows by 10% every year. The trends in keywords thus change for obvious reasons which are why regular audits are necessary to keep up with user behavior. Thorough competitor analysis gives a rival brand a competitive edge as well as satiates the intelligent Google algorithms.
Who are we?
Inteliqo Research and Services has been catering to international clients for improving their websites' SEO health for years. We pride ourselves on being one of the best SEO agencies out there due to our experience in delivering measurable results. Our in-house SEO strategists have been hired due to their previous excellence and regular training sessions are conducted by industry SEO experts to keep up with all the new developments. We utilize all the advanced tools out there for accurate data and performance analysis. We proudly stand out from others owing to the fact that our auditors don't only rely on machine outputs but also offers insights from their experience and expertise that will not only suffice Google algorithms but also attract and retain organic traffic.
Not satisfied with your website's performance on the internet? You don't have to worry anymore because our SEO auditors will fix all your optimization worries. Don't waste any more time and call us at  +917002941316(India) or email at support@inteliqoservices.com.