The world population currently stands at 7.77 billion and has about 4.54 billion active internet users. There exist 88,555 GB of internet traffic every second in a day.  Search Engine Optimization (SEO) plays a crucial role in ensuring user-friendly internet access and penetration. However, how crawling, indexing and ranking works in SEO optimization has concerned many SEO experts over the span of the past few decades.
Search Engine Optimization, in layman's language, refers to the process of increasing one's visibility for relevant searches made over the internet.  The more attention a business website or page garners, the greater are the chances of growth and development of the business. SEO is pivotal to the present digital marketing regime, especially after the shift to e-commerce, where buying and selling of goods and services take place primarily through online platforms. Search often constitutes a large portion of the internet traffic, and thus better visibility and ranking can have a material impact on the competition that a business faces.
How SEOs really work?
How crawling, indexing and ranking works can be understood by understanding the basis of the subject.
The first step in the process is crawling. Crawling refers to the process where a search engine sends out its crawlers or spiders (a group of robots) to scour through the internet to find content one is looking for. It also includes searching for newly updated content on the subject matter.
The next step is indexing, which is the process of storing and organizing the content or data found while crawling.
The third and final step in the process is ranking. Ranking refers to sorting data in the order of most relevant to least relevant.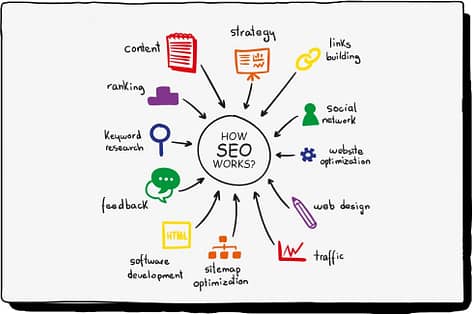 Content sought out can vary; a user can search for a website, an image, a video, a word document, a piece of information, etc. However, such content is identified by the crawlers or spiders by using links. These crawlers or spiders start the process by reaching a few websites and then follow the link on that website to reach new websites or desired URLs. By doing so, the crawler successfully finds new and updated content to the index. Googlebot updates the information to a huge database of URLs known as Caffeine. This information is stored, only to be retrieved later when the URL is a good match for the Google search made.
However, there are millions of websites offering information, goods, and services and billions of users making the searches on the same. When a search is made, the index is scoured thoroughly to find the most relevant content to meet the needs of the user's query. It must, however, be noted that search engine crawlers should be made accessible to the content that is being searched, otherwise it remains invisible to the crawler and cannot be indexed. Thus, it fails to appear when a search is made.
There are four factors that need to be considered in search engine optimization:
On-Page SEO: This factor is mostly in control of the publisher of the content. This includes the title of the page or article, keywords, HTML heads, anchor texts, etc.
Off-page SEO Factors: Search engines while optimizing content do not base their results merely on what is available on the page for users to see. It also depends on external factors such as geographical location, the reputation of competing websites, website backlinks, etc to deliver the most significant results. While it is difficult to take control of these factors on a per-page basis, it is necessary to consider the same in order to deliver a result that has been sought.
Toxins: SEO Service providers sometimes notice, Spam or Black Hat techniques which are termed toxins. Black hat techniques refer to practices that violate the terms of service of a search engine in order to increase a website's or page's rank on the search engine. This includes content automation, cloaking, link schemes, article spinning, Rich Snippet Markup Spam, Phishing, and other malware attacks.
Emerging Verticals: This includes our components
Voice – This includes Google Assistant, Alexa, and Siri.
Local Visibility- SEO experts believe that being visible is far more important today, and then it was in the previous decades.SEO Optimization for your content according to your geographical location helps in improving one's presence on Google search and maps. Platforms like Facebook, Yelp also use this factor to deliver relevant results.
Image Search and
Videos search.
Having understood how crawling, indexing, and ranking works , it is now pertinent to study how one can get their business indexed and ranked higher. Businesses create websites, publish information and wait for search engines to index the same. The process often becomes frustrating. However, there are a few tricks that can help search engines index and rank websites and pages faster.
Inspecting URL
It is not so difficult to get content indexed on search engines. Google provides numerous URL inspection tools such as search consoles which allow users to submit an URL and ask the search engines to specifically crawl that URL. When one crawls an URL, it goes into the priority of the system and gets indexed by the search engine.
Using Sitemaps
Sitemaps are the easiest way to get one's own content indexed. Sitemaps have used a blueprint to a website which tells search engines which pages are most important in a website. One can do so by submitting sitemaps on Search Console Sitemap Report. This can also be done by Search Console API.
Indexing API
Indexing APIs allow website owners to notify Google when pages are added or removed from a website. Using an Indexing API, one can:
Update a previously submitted URL
Remove a URL from an index, so that it is not crawled by a search engine after having been removed
Find the status of a request to update or remove the URL
Send batch Indexing requests up to 100 calls in a single HTTP request.
Links from important pages
When new content is published on a website or page, important pages must be linked. Linking important pages helps the process of crawling as well as the process of determining how to rank it.
Updating old content and adding keywords regularly is also essential to ensure the relevance of your website and its visibility.
Sharing content socially
Sharing content socially is directly related to its ranking by search engines. When content is shared on content aggregators, actual links that can be crawled are created.
Generating Google search results
Owners must also ensure that content must be available not only through URL search but also through Google search results when a keyword is searched.
Thus, while it may seem like a difficult job to get your page or website to rank high on a search engine's index, it is possible by adopting the right tricks and techniques. To know more about SEO and how it operates, it is suggested that experts in the field be contacted and consulted.
For more details, contact Inteliqo Research and Services at support@inteliqosservices.com and +917002941316.